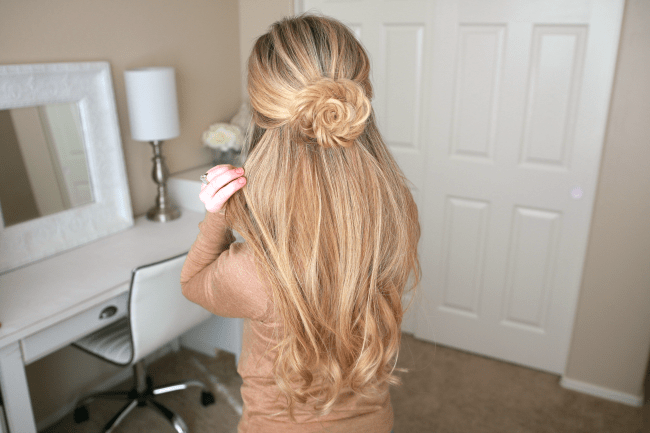 You guys! I've gotten so many requests for half up hairstyles lately that I thought this fishtail braid flower would be the perfect tutorial! I saw a similar picture on instagram and was planning to do a tutorial when someone requested it and I got so excited because it was something I already wanted to film. I think this hairstyle works so great as an everyday style but would be so pretty for a holiday party. It seems so simple from the front but it's definitely not your everyday half up hairstyle. I hope you enjoy the tutorial and if you want to check out some of my past flower braids you can see them here, here, here, here, and here!
Supplies:
Brush
1 Clear elastic band
5-6 bobby pins
Medium-hold hairspray
Fishtail Braid Flower Instructions:
Step 1 / Begin by parting the hair on the left side though you can part it wherever you normally prefer.
Step 2 / Next, divide off a section of hair right above the ears and tie it off with a clear elastic band.
Step 3 / Braid this section into a fishtail braid by splitting it into two sections and crossing small pieces from one side over the top to the other, braiding down to the ends.
Step 4 / Criss-cross two bobby pins over the ends so they don't unravel.  This will make it easier to go back over the braid pulling on the edges to make it fuller.
Step 5 / Now wrap the braid clock-wise into a spiral over the top elastic band. I went ahead and slid bobby pins into the underside of the braid to help hold it in place.
Step 6 / Remove the bobby pins from the end of the braid and tuck the ends into the center of the spiral, pinning them with bobby pins.
Step 8 / Now go back over the braid and pull on the edges to make the flower fuller. This will also help it show up better.
Step 9 / Set the style with hairspray and that is the very last step!