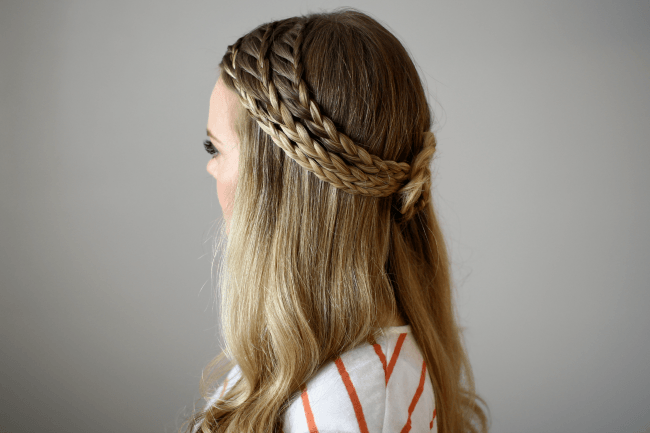 Three little lace braids stacked together and wrapped into a pretty rosette is a great way to dress up some everyday curls. This hairstyle is easy to do once you learn how to create a lace braid which is actually easier than a french braid because you only bring in hair on one side of the braid! Adding a little braided flower to the end of these braids is a sweet little surprise but if you're not up for a wearing a rosette then a pretty clip would work too!
I recently wore this hairstyle out to lunch and received a few compliments on the look. One woman in particular asked me several different times to explain how the braids were done and then a few more specifics about the technique. She and her little girls loved it and said they were going to try it once they got home. You should definitely try it out because I have no doubt you will get a few compliments too!
Triple Lace Braided Rosette
Supplies:
Triple Lace Braided Rosette Instructions:
Step 1 / Use a curling wand or your favorite curling iron to add some curls to the hair.
Step 2 / Section off a portion of hair from a part on the right side, down to the left ear. Use a hair band to tie off the back section of hair.
Step 3 / Divide the remaining front section into three sections and pin the front two out of the way.
Step 4 / Create a lace braid, by bringing in small sections of hair on the forward side of the braid.
Step 4 / Continue braiding the section until it reaches the left temple, then braid the rest into a regular braid, tying off the end with a clear elastic band.
Step 5 / Let down the pinned section at the hairline and divide it into two equal sections.
Step 6 / Create two more lace braids keeping each one close to the previous one so they lay right next to each other.
Step 7 / When all three braids are done, let down the back portion of hair.
Step 8 / Take the three braids and wrap them around the back of the head.
Step 9 / Pick up a small piece of hair from the back of the head and tie it together with the three braids. This will help keep the braids in place with needing any bobby pins.
Step 10 / Remove the individual elastics from the braids and create one large braid with the section of hair.
Step 11 / Tie off the braid with another elastic band.
Step 12 / Carefully wrap the braid into a rosette so it rests where the three lace braids end at the back of the head.
Step 13 / Secure the rosette with several bobby pins.
Step 14 / Gently pull and loosen the sides of the rosette to create a fuller flower.
Step 15 / Spray the style with a medium-hold hairspray and smooth down flyaways.