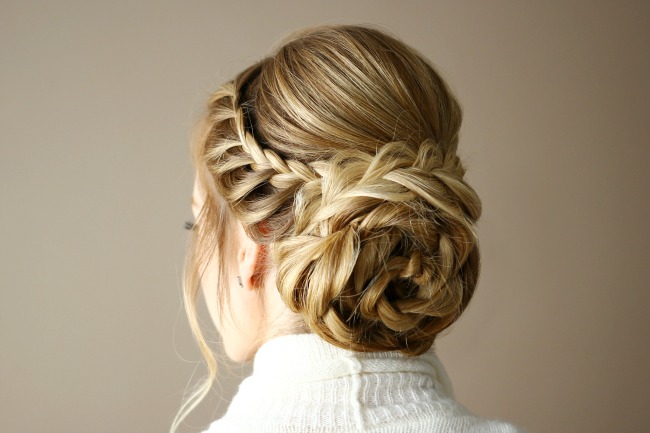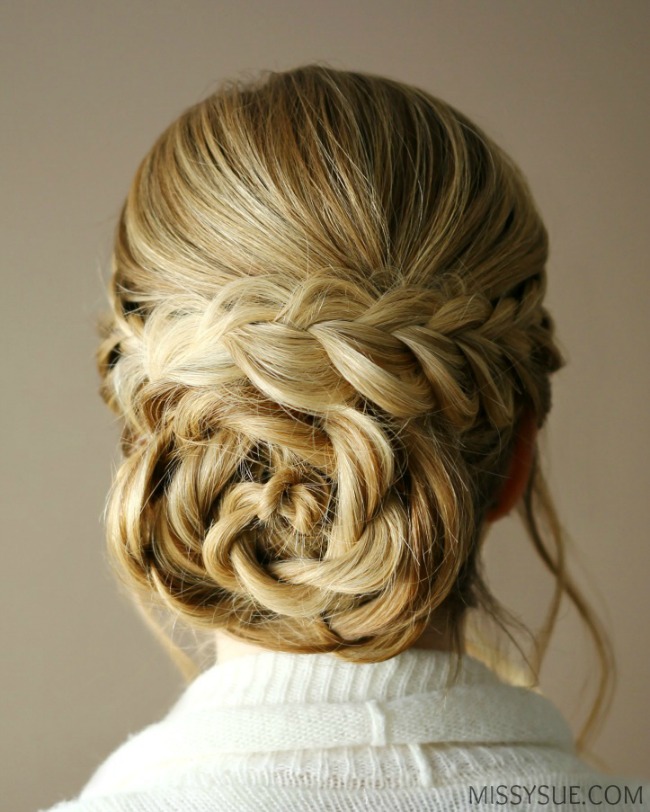 This rosette bun is so pretty and feminine you will feel like a princess wearing it. It is so dressy it would look perfect for a night out or special occasion. I think it would also look perfect for the Valentine's Day dance at school since I know that is coming up soon! Of course you could wear it casually just for fun too! Either way, be sure to leave a comment below letting me know what you think!
Braid Embellished Rosette Bun supplies:
Braid Embellished Rosette Bun Instructions:
Step 1 / Begin by dividing the hair into three sections. Two side sections from the part down to the ears, pinned forward to work with later, and the back section left down.
Step 2 / Pick up a large section around the crown, lay the right side underneath the left and pin it against the head.
Step 3 / Pick up a 3″ long section behind the right ear, wrap it around the back of the head so it reaches to the left of the top pinned section and secure it against the head with bobby pins.
Step 4 / Pick up a 2″ section at the nape of the neck, next to the previously pinned section in the previous step, and wrap it up towards the left side as well, pinning it against the head.
Step 5 / Divide off a small 1″ section of hair on the left side, aligned with the left ear, wrapping it towards the center of the back of the head and pinning it in place.
Step 6 / Take the hair hanging down at the back and split it into two equal sections.
Step 7 / Create two separate rope braids with the two sections by splitting them into two small sections and twisting them around each other.
Step 8 / Take one of the rope braids and wrap it into a spiral bun, slightly off center, behind the left ear.
Step 9 / Wrap the second rope braid around the outside of the first bun, pinning down the edges.
Step 10 / Let down the hair at the sides and create two french braids, sliding a bobby pin over the end to keep it from unraveling.
Step 11 / Lay the braid on the left over the bun, around to the bottom, pinning down the end.
Step 12 / Wrap the braid on the right side over the bun, around the side towards the bottom, securing the end with another bobby pin.
Step 13 / Curl any hair left out around the face with a 1 1/4″ curling iron.
Step 14 / Set the style with a firm-hold hairspray.