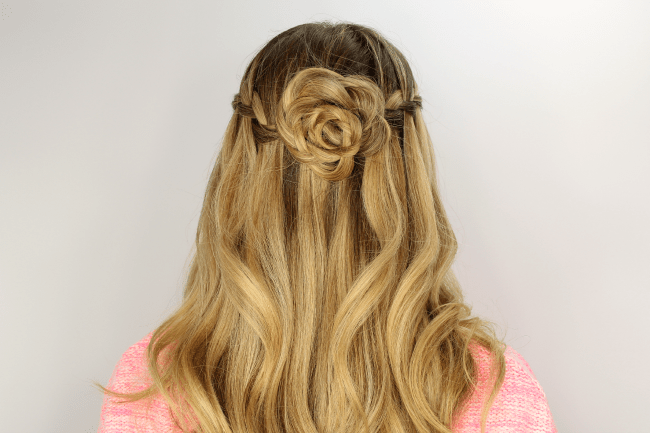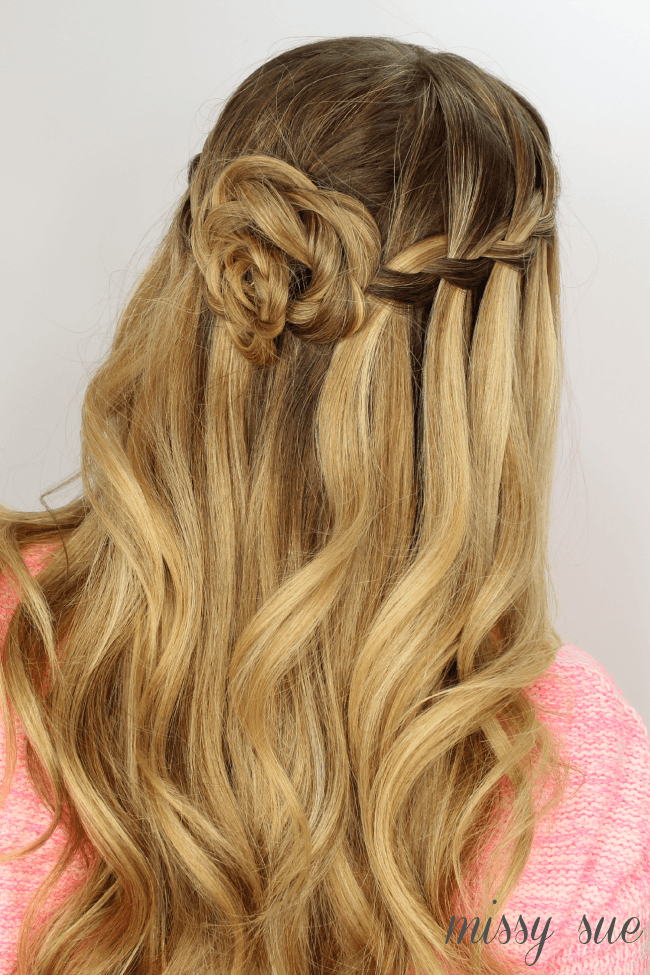 Summer is right around the corner and I have had braids on the brain. This waterfall style is so perfect for the warmer summer months and definitely a staple braid now. I wanted to change it up a little bit though so I threw in one on each side of the head for a boho feel and then wrapped the ends up into a cute little flower bun. I hope you love it, try it out, and tag me so I can see your recreations! Find me on Instagram, Twitter, and Facebook at @MissySueBlog!
Waterfall Braid and Flower Bun
Supplies: Paddle brush, 2 clear elastic bands, 3-4 bobby pins
Step 1 / Brush through the hair to remove any tangles. Begin a waterfall braid by picking up a small 1″ section of hair on the left side of the part and dividing it into three strands. Create a regular stitch of a braid by crossing the side strands over the middle.
Step 2 / Incorporate hair into the back strand then cross it over the middle strand.
Step 3 / Drop down the front strand and pick up a new section of hair, crossing it over the middle strand in place of the dropped strand.
Step 4 / Repeat steps 2 and 3 creating a waterfall braid until it reaches the back of the head. If you prefer a video, check out this tutorial for How to do a Waterfall Braid.
Step 5 / Now repeat the previous steps on the right side of the head, creating a second waterfall braid.
Step 6 / Tie the two braids together at the back of the head with a clear elastic band.
Step 7 / Braid the end of the tied section into a regular braid and tie off the end with another clear elastic band.
Step 8 / Pick up the braid and carefully roll it upwards, towards the back of the head, creating a spiral or "flower."
Step 9 / Pin the flower in place with a few bobby pins.