This hairstyle is cute and quick and works great on short, medium, or long hair! It only requires a bit of braiding, no tricky french braids though, so give it a try! This pretty braided updo is ready for an afternoon party, Sunday brunch, or a shopping date with friends!
If you love this look, be sure to check out these tutorials too!
Braided Updo for Shorter Hair Supplies: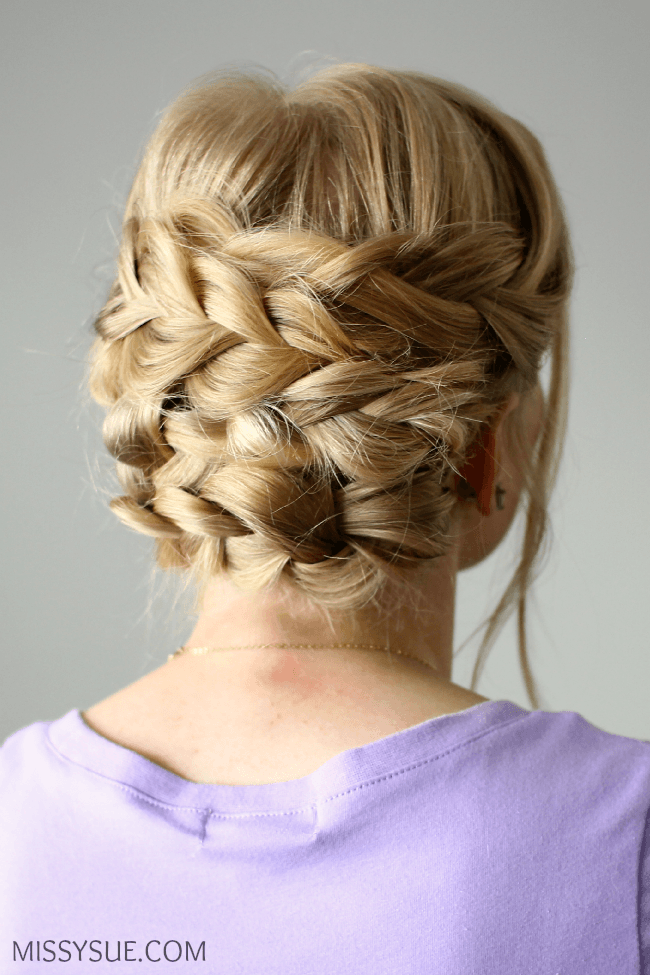 Braided Updo for Shorter Hair Instructions:
Step 1 / Begin by parting the hair where you normally part it and brush through any tangles.
Step 2 / Divide the hair into three sections: the part down to each ear, clipping these forward portions out of the way and leaving down the back section.
Step 3 / Divide the back section into two equal halves.
Step 4 / Pick up one of the sections and braid it into a single braid. Tie off the end with a clear elastic, then gently loosen the edges to create a full, flatter braid.
Step 5 / Now repeat the above step, braiding the other three sections into single braids, tying off each one with a clear elastic. You should have four braids total when finished.
Step 6 / Take the braid at the back, on the left side, and lay it up against the head. Pin it in place with several bobby pins.
Step 7 / With the back right braid, lay it above the pinned braid so they are stacked one on top of the other and secure it several more pins.
Step 8 / Next, cross the front braid on the left side above the pinned braids at the back, and secure it in place with bobby pins.
Step 9 / Lay the right front braid above the last braid and secure it with pins.
Step 10 / Spritz the style with hairspray to set it.