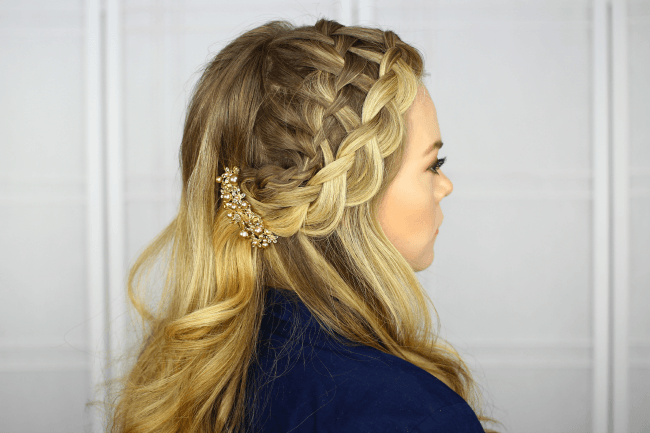 The Waterfall Dutch Headband Braid is another great headband braid tutorial and an inverse version of the Double Headband Waterfall Braid. This hairstyle features a waterfall braid and dutch braid combined together to create a pretty headband. Finish it off with a big flashy clip and it is perfect for a night on the town, meeting up with girlfriends, or even a more formal event!
How to do the Waterfall Dutch Headband Braid:
Step 1 / Starting with a deep side part, take  a 2″ section of hair at the back of the crown, on the heavy side of the part , and divide it into three pieces.
Step 2 / Cross the side strands over the middle one time to begin a waterfall braid.
Step 3 / Next, drop down the front strand and pin it out of the way.
Step 4 / Pick up a section of hair underneath the dropped strand, crossing it over the middle as a replacement piece.
Step 5 / Now cross the back strand over the middle and bring in a section of hair as well, incorporating it into the strand.
Step 6 / Repeat steps 3 through 5 until the braid reaches the top of the ear.
Step 7 / Continue braiding the hair down into a regular braid and tie off the end with an elastic band.
Step 8 / Let down the waterfall pieces and pick up another 2″ section of hair directly in front of the first braid on the heavy side of the part.
Step 9 / Divide the hair into three pieces and cross the side strand under the middle one to begin a dutch braid.
Step 10 / Continue crossing the side strand under the middle and bring in the waterfall pieces when you cross the back strand.
Step 11 / When the braid reaches the corner of the forehead, stop bringing in pieces from the front but continue pulling in waterfall strands.
Step 12 / Once the braid reaches the top of the hear, braid down into a regular braid.
Step 13 / Wrap the braid towards the back of the head and secure it in place with hair pins.
Step 14 / Gently loosen the sides of the braid to make it thicker and to show more detail; this step is totally optional (:
Step 15 / Take a pretty clip and pin it over the braid before removing the hair pins.
Step 16 / Spritz the style with hairspray to ensure it stays in place and curl the rest of the hair if so desired.
You can find the clip here: Elle Pearl/Rhinestone Barrette.