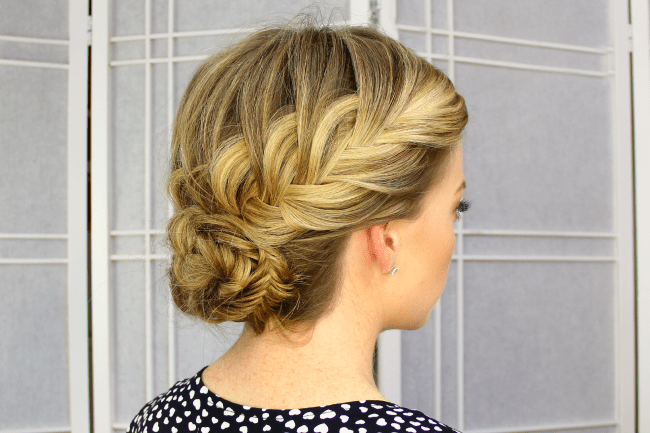 Fishtail French Braid Updo is a perfect hairstyle for that night out on the town. I love to wear my hair in braids to work so I think with a smart blazer and clean cut pencil skirt, this could work even at the office.
The hairstyle features two fishtail french braids, wrapped together into a bun, and secured with hair pins. If you've mastered the fishtail french braid then you definitely need to try this look. It could also be done with regular french braids or even dutch braids too.
I love dressing up fishtail braids and if you love this look then be sure and check out Fishtail French Braid Braided Bun and Tuck and Cover Fishtail Braids too!
Step-by-step instructions for the Fishtail French Braid Updo:
Begin with a side part, whichever side is your preference.
Take a 2″ section of hair on the heavy side of the part and divide it into two halves.
Begin a fishtail braid by taking a small piece of hair from the front strand, crossing it over the top, and adding it to the other half.
Then take a small section of hair from the back half, cross it over the top, and add it into he front half.
Now begin a fishtail french braid by taking a small piece of hair from the front half, adding it to the other side, then bringing in a section of hair and adding it in as well.
Repeat step 5 with the back strand.
Continue braiding a fishtail french braid until it reaches the back of the head.
Finish braiding the hair down into a regular fishtail braid.
Tie off the end with a clear elastic band.
Now repeat steps 2 through 9 with the hair on the other side.
Once all the hair is braided, wrap the two braids together to form a bun.
Slide hairpins into the bun to hold it in place.
Finish with medium to strong hold hairspray.