Braid 5-Tuck and Cover Fishtail Braids is the newest Tuck and Cover.
I truly didn't think I could come up with any more but yet, here is another. I hope you love it and as much as I do.
It is a little tricky to do and takes a bit more time. Fishtail braids are those braids that really require a tad more concentration than the usual braid. Each strand is smaller and somehow remembering which side you are on can trip you up quickly. Here's a video for learning How to Fishtail Braid if you have never doneone before. I think you will catch on quickly and soon love them; they are the perfect braids for summer!
Here are the steps for completing this look:
Step 1 / Grab your favorite stretchy headband and place it over the crown of the head. *I wore this headband recently in this post (turban) and also in the Tuck and Cover Half.
Step 2 / Divide the hair into three sections. Braid the first strand, over the left shoulder, into a fishtail braid.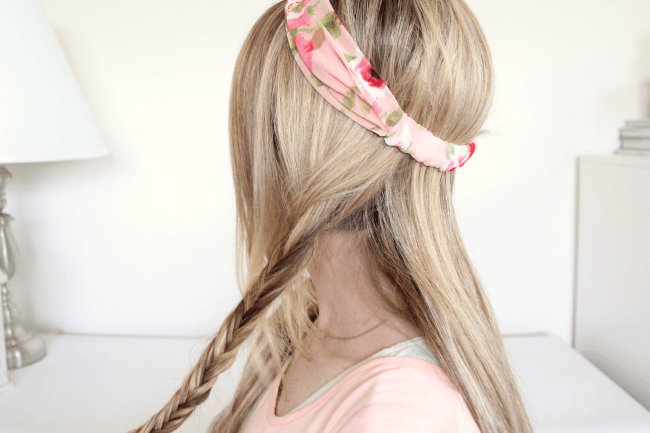 CLICK BELOW TO CONTINUE

Step 3 / Braid the remaining two strands so you have three messy fishtail braids.
Step 4 / Take the fishtail braid on the far right and tuck it into the hair band.
Step 5 / Wrap the braid once more (or three times) until the entire braid is wrapped around the band.
Step 6 / Repeat steps 4 and 5 with the middle braid.
Step 7 / Repeat steps 4 and 5 with the last braid.
Step 8 / Gently roll and tuck the hair in so it is all securely wrapped.
Step 9 / Take the front bangs and wrap them into the band creating a swept effect.
Check out the other versions of this hairstyle.
Tuck and Cover Great Gatsby Style
Tuck and Cover French Braid Video Tutorial