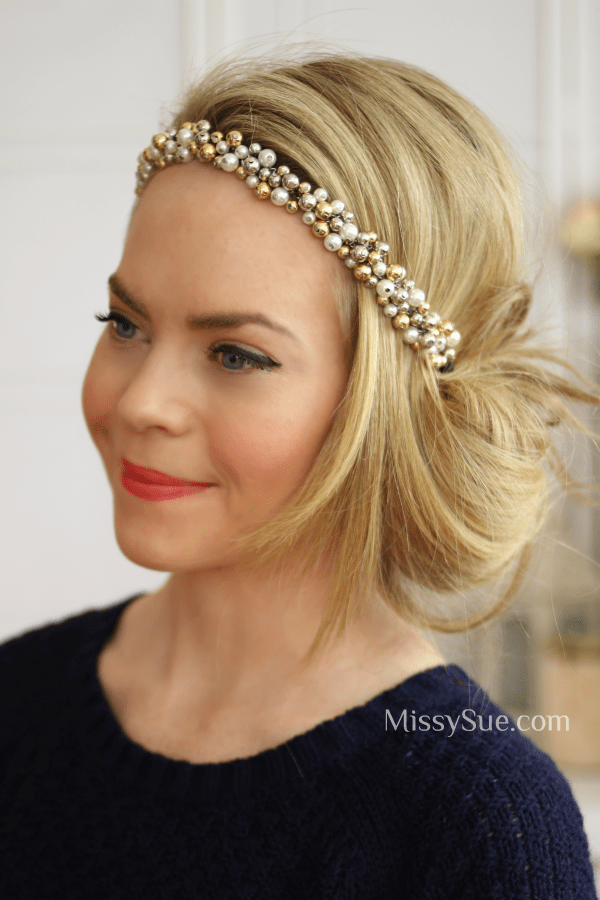 The Tuck and Cover (video tutorial) now has a new version, the Tuck and Cover Great Gatsby style! This is such a fun hairstyle and easy to do! If you love this look be sure and check out the Tuck and Cover Half too!
Over the weekend I was out shopping and spotted a girl in Forever21 sporting the hairstyle. It always looks so darn cute and I love seeing it in so many different places. While I was there I spotted this adorable headband and couldn't help but purchase it for a new hairstyle post. As I was playing around with the headband in my bathroom I started randomly tucking my hair into it and before I knew it this hairstyle was created!
This look is super easy to do and all you need is a really fun headband.
Follow these quick steps to achieve the style:
1 / Place the headband over the head, lining the front up with your hairline.
2 / Grab the hair directly in front of your right ear and wrap it around the band so the ends hang back down again.
3 / Combine this with the hair directly next to it and wrap it around the band again as in step 2.
4 / Now, take the next section of hair, bringing it up towards the band but instead of tucking it in simply hold it over the band.
5 / Then, take the remaining hair and push it all up towards the band forming a clump or ball shape.
6 / Push the hair down so it tucks into the band but the ends remain sticking out.
7 / Pull down a few pieces on the side so it has a more asymmetrical feel and covers the left ear.
8 / Gently pull the hair on top to loosen it slightly.
Done! Now you can wear the Tuck and Cover Great Gatsby style with that 1920's flair!
—————————————


If you are new to MissySue, you will love the other versions of this hairstyle.
Tuck and Cover Great Gatsby Style