Christmas is almost here and this hairstyle is quick and easy, perfect for Christmas morning or even all day! I love tossing my hair up into a bun for unwrapping presents but this tutorial is a really fun way to change up your look without needing any extra time to achieve it. Wrap your tresses up into this chic double bun updo and look great all morning long while sipping hot chocolate and spending time with loved ones!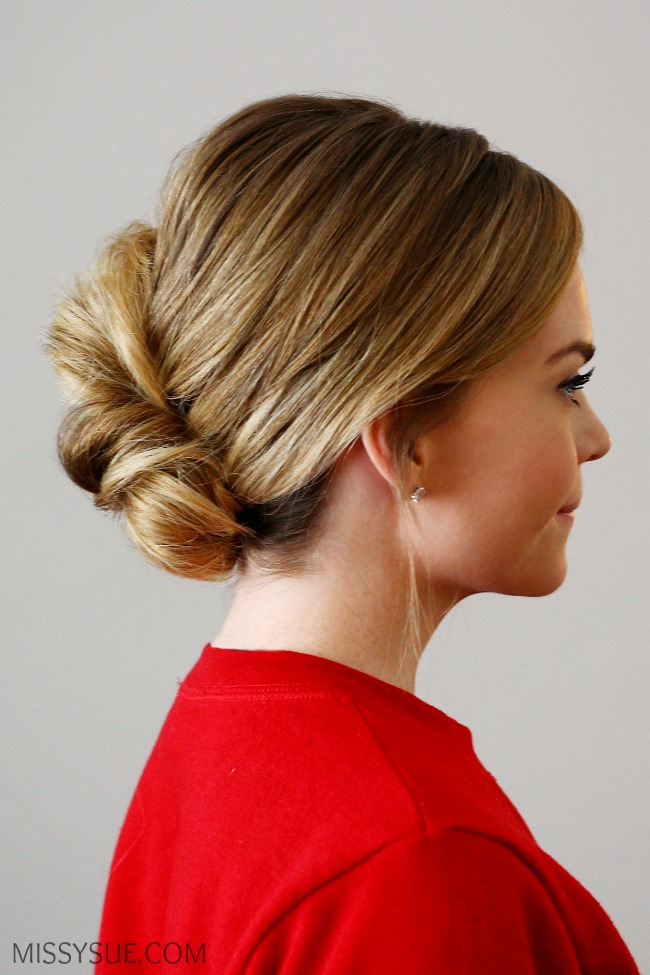 Double Bun Updo Supplies:
Double Bun Instructions:
Step 1 / Divide off a section of hair from the top of the ears towards the back of the head, twisting the entire section together.
Step 2 / Wrap the twist clock-wise, from the left side up towards the top of the head, beginning to form a bun shape.
Step 3 / Continue wrapping the hair towards the right side and downwards, meeting the twist where it began.
Step 4 / Pin down the edges of the bun with bobby pins.
Step 5 / Pick up the tail of the bun and join it together with the rest of the hair; twist the entire section together into a new twist.
Step 6 / Wrap the hair into a second bun underneath the first, slightly off center, towards the right side.
Step 7 / Pin down the edges of this bun as previously done with the first bun.
Step 8 / With the extra hair hanging down, twist it all together and wrap it up the left side of the two pinned buns.
Step 9 / Continue wrapping the section around the top securing the section underneath the buns with bobby pins.
Step 10 / Set the style with a firm-hold hairspray and smooth down flyaways.