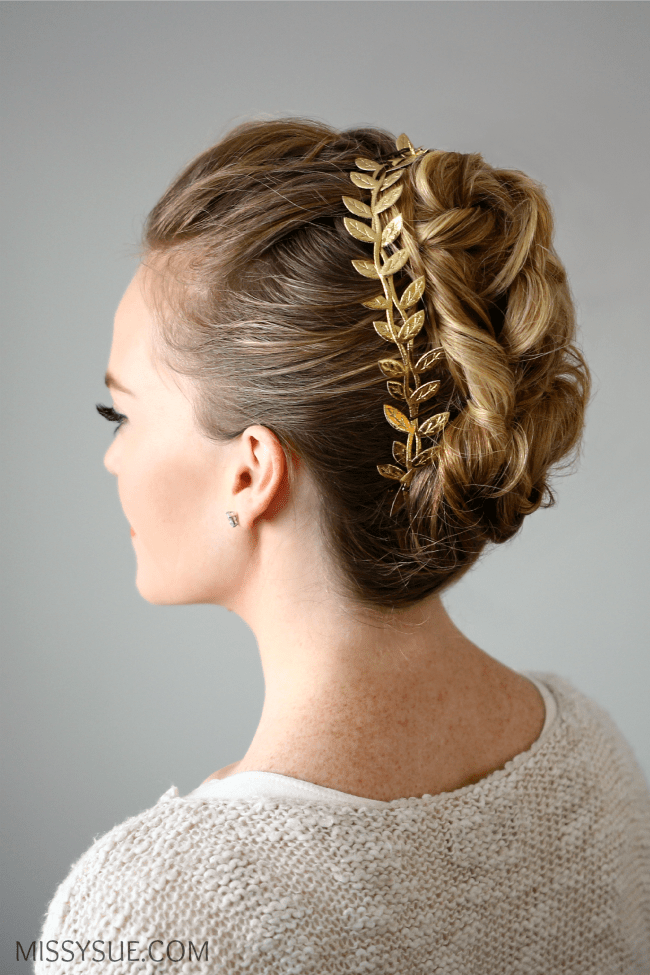 With the holiday's right around the corner, now's a great time to start practicing that fabulous hairstyle for Thanksgiving dinner or holiday party. This mohawk updo puts an edgy twist on a classic style. The wrapped… effect keeps it on the fancy side but spins it a tag with a modern mohawk shape. Add a gorgeous gold ribbon or clip for that extra bit of flare!
Mohawk Updo Supplies:
Mohawk Updo Instructions:
Step 1 / Brush through the hair to remove any tangles; then brush all the hair straight back from the forehead.
Step 2 / Pick up a 3″ wide section of hair near the top of the hairline.
Step 3 / Twist the section together and lay it against the top of the head.
Step 4 / Pin the section against the head to create a small pompadour.
Step 5 / Create two vertical, parallel sections down to the nape of the neck to create three equal sections.
Step 6 / Use hair sectioning clips to clip the forward portions out of the way.
Step 7 / Braid the middle section into a french braid, tying off the end with a clear elastic band.
Step 8 / Remove the sectioning clips from the forward portions.
Step 9 / Pick up a 1″ section of hair on the right side, near the hairline.
Step 10 / Drape it across the french braid and secure it with a bobby pin.
Step 11 / Pick up a similar sized section on the left side, draping it over the previous section, and securing it with bobby pins.
Step 12 / Twist the two tails together, wrapping them into a bun, and pinning down the edges.
Step 13 / Repeat the previous steps, pinning side sections over the french braid and twisting them into bun, one below the next, securing the edges with bobby pins.
Step 14 / When one section is left, near the nape of the neck, secure the base of the french braid with bobby pins by slide them horizontally into the braid.
Step 15 / Remove the hair band from the end of the braid.
Step 16 / Divide the last bit of hair into two sections, a left and right side.
Step 17 / Twist the left side together and wrap it up the left side of the buns, around the top, and back down the right side.
Step 18 / Pin down the edges with bobby pins until it feels secure.
Step 19 / Twist and wrap the last section of hair up the right side, around the top, and back down the left side, pinning down the edges.
Step 20 / Drape a pretty ribbon along the left side of the braid and set the style with a firm-hold hairspray.