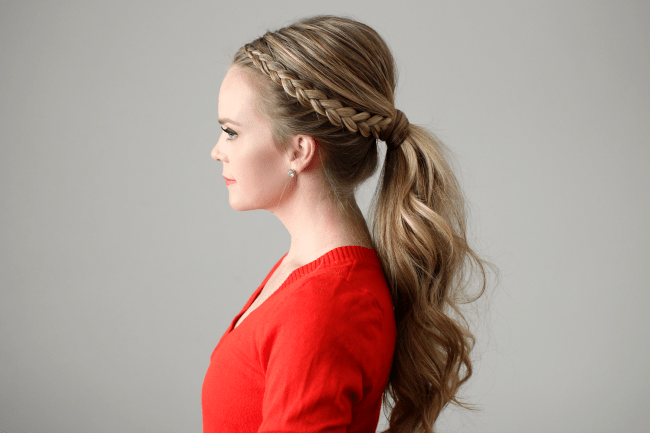 This Dutch Lace Braid Ponytail tutorial will show you a simple and quick way to add a braid to your everyday ponytail. It's an easy way to add a little extra something to a traditional look, taking it up a notch for wearing everyday or out for a special occasion.
Find more hair inspiration with these other great ponytail tutorials!
Dutch Lace Braid Ponytail Supplies
Dutch Lace Braid Ponytail Instructions:
Step 1 / Begin by parting the hair near the center and combing through any tangles. Then divide off a section of hair around the crown at the top of the head, pinning it out of the way.
Step 2 / Begin a dutch braid with a small section of hair on the left side of the part.
Step 3 / After creating the first stitch of the braid, cross the strand on the right under the middle. Next, pick up a section of hair and add it into the left strand, cross both pieces under the middle strand.
Step 4 / Now, cross the strand on the right under the middle. Then add in a small section of hair to the strand on the left and cross both under the middle.
Step 5 / Continue braiding the section of hair so it trails towards the left ear, only adding hair into the braid from along the hairline.
Step 6 / Once the braid reaches the ear, switch hands and continue braiding the section towards the back of the head, continuing to bring in hair from along the hairline.
Step 7 / After bringing in hair from the nape of the neck, braid a few more stitches and then tie off the end with an elastic band
Step 8 / Create an identical braid on the right side of the head, tying off the end with a second clear elastic.
Step 9 / Sweep the hair into a ponytail that lines up with the top of the ears.
Step 10 / Once the ponytail is secured, remove the elastic bands from the braids.
Step 11 / Take a small section of hair from the ponytail and wrap it around the hair band.
Step 12 / Secure the end of the wrapped piece with two bobby pins, criss-crossing them to help them stay in all day.
Step 13 / Curl the ponytail with your favorite Pro Beauty curling iron.
Step 14 / Mist the style with a firm hold hairspray and smooth down flyaways.