Adding a pretty braid to any bun is an easy way to take it to the next level. I personally love wearing low side buns and dressing them up a bit is definitely my forte. This style is so perfect for work or school because it stays in snug and transitions easily to dinner out with friends or an evening meeting. Switch out the braid for a dutch braid or regular braid and you just added three new styles to your beauty repertoire!
Be sure to check out these other Fishtail Braided hairstyles!
Fishtail Braid Updo Supplies: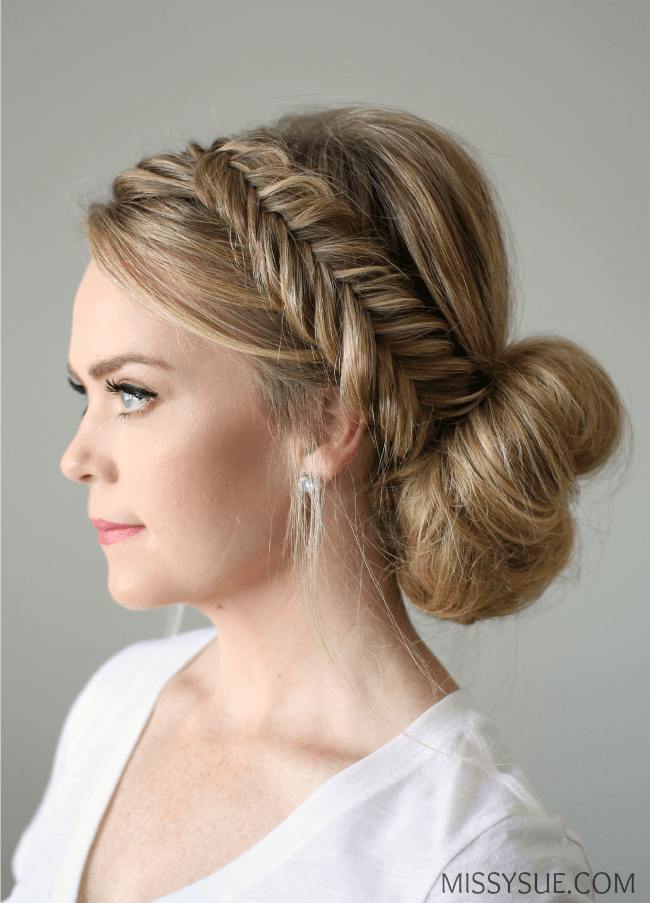 Fishtail Braid Updo Instructions:
Step 1 / Begin by creating a part on the right side and brush through the hair to remove any tangles.
Step 2 / Divide off a section of hair from the part down to the left ear; clip off the back section.
Step 3 / Pick up a 3″ section of hair along the part, on the heavy side, and divide it into two halves for the Dutch Fishtail Braid.
Step 4 / Take a small piece from the right section, cross it underneath and add it to the left section.
Step 5 / Next, take a small piece from the left section, cross it underneath, adding it into the right section.
Step 6 / Cross a section from the right underneath to the left and then pick up a section of hair, crossing it underneath as well and adding it into the left section.
Step 7 / Next cross a section from the left underneath to the right, bring in a section, crossing it under as well.
Step 8 / Now repeat steps 6 and 7 crossing sections underneath while bringing in hair until the entire section is incorporated into the braid.
Step 9 / When the braid reaches the bottom of the left ear, braid the section down a little further without adding in anymore hair.
Step 10 / Bring the rest of the hair together at the left side of the nape of the neck, including the braid too.
Step 11 /  Wrap a hair band over the hair. Then twist the band twisting the hair at the same time, and wrap the band once more over all the hair.
Step 12 / Shape the bun so it looks flattering, pulling some pieces looser or tucking in any hair sticking out.
Step 13 / Spray the hair at the front with hairspray and smooth down any loose hairs.
Step 14 / Then set the style with a few spritzes of hairspray.