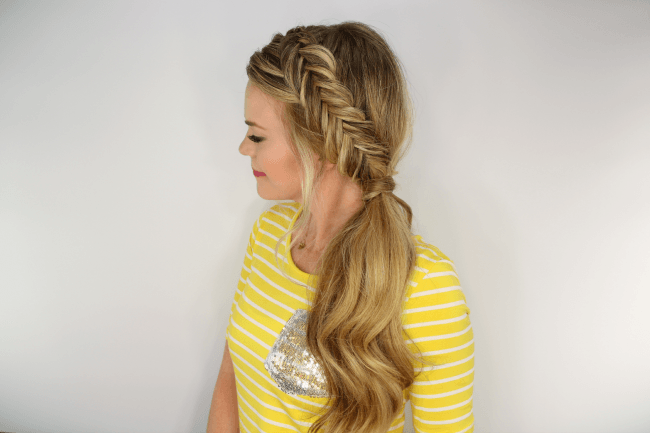 Dutch fishtail braids are one of my very favorite. This summer they are super hot and right on trend! I think side ponytails are so cute and easy too that I thought it was the perfect time to combine the two together into this fun hairstyle.
If you are new to fishtail braids, this hairstyle would also be really cute with a dutch braid, french braid, or even a regular braid instead. It's done the same way but simply switch out the fishtail for your own favorite!
Dutch Fishtail Side Pony
Supplies: Brush, clear elastic, bobby pin, 1 1/4″ curling iron, medium-hold hairspray
Step 1 / Begin by creating a part on the right side and brush through the hair to remove any tangles.
Step 2 / Then sweep all the hair over the left shoulder.
Step 3 / Pick up a 3″ section of hair along the part, on the heavy side, and divide it into two halves for the Dutch Fishtail Braid.
Step 4 / Take a small piece from the back section, cross it underneath and add it to the front section.
Step 5 / Next, take a small piece from the front section, cross it underneath, adding it into the back section.
Step 6 / Cross a section from the back underneath to the front and then pick up a section of hair, crossing it underneath and adding it into the previously crossed section. *This method is the same as doing a dutch braid where hair is brought in. The two main sections is how the fishtail effect is created.
Step 7 / Next cross a section from the front underneath to the back, bring in a section, crossing it under as well.
Step 8 / Now repeat steps 6 and 7 crossing sections underneath and bring in hair until all of the hair is incorporated into the braid. *Be sure and keep the braid along the hairline, trailing down the side of the face.
Step 9 / When the braid reaches the bottom of the left ear, braid the section down a little further without adding in anymore hair.
Step 10 / Bring the rest of the hair and tie it all together at the left side of the nape of the neck.
Step 11 / Take a small section of hair from underneath the ponytail and wrap it around the hair band. Pin it in place with a bobby pin.
Step 12 / Gently pull on the edges of the braid to make it more full.
Step 13 / Throw some curls into the ponytail with a curling iron.
Step 14 / Spray the style with hairspray to set it.