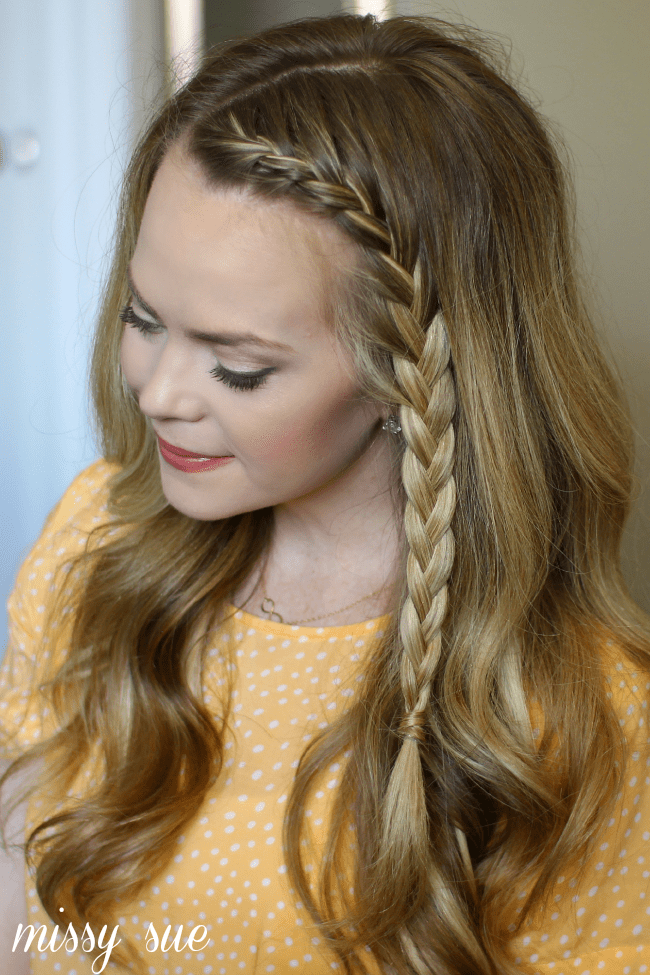 It's Summer! Yesterday was my birthday and I always consider my birthday to be the sign that Summer is officially here. This is one of the best times of the year because it means swimming, trips to the lake, outdoor barbecues, the 4th of July, parades, everything is so gooooood!
I love Summer and wanted to do a hairstyle that is quick and easy but great for keeping your hair off your face during the heat. I realize it's probably best to put it all up into a ponytail on super hot days but that is a tutorial for another day! (:
Here's a quick refresher course on how to French Braid! I hope you enjoy this one though and be sure to tag me on instagram or twitter if you recreate this look! Love ya!
French Accent Braid
Supplies: Brush, Alligator clip, Clear elastic band, Flexible-hold hairspray
Step 1 / Begin by parting the hair on the right side.
Step 2 / Brush through the hair to remove any tangles.
Step 3 / Divide off a front section of hair by creating a vertical part from the original part down to the left ear. Clip off the back section to keep it out of the way.
Step 4 / Pick up a small, 1″, section of hair on the left side of the part for the braid.
Step 5 / Divide this section into three equal pieces.
Step 6 / Cross the back strand over the middle.
Step 7 / Then cross the front strand over the middle.
Step 8 / Cross the back strand over the middle and bring in a section of hair incorporating it into the braid.
Step 9 / Now cross the front strand and bring in another section.
Step 10 / Continue french braiding the hair down incorporating hair into the braid until it's all brought in.
Step 11 / Braid the rest of this section down into a regular braid.
Step 12 / Tie off the end with an elastic band.
Step 13 / Curl the ends of the hair with a 1 1/4″ curling iron.
Step 14 / Mist the style with a flexible hold hairspray and you are ready to go!