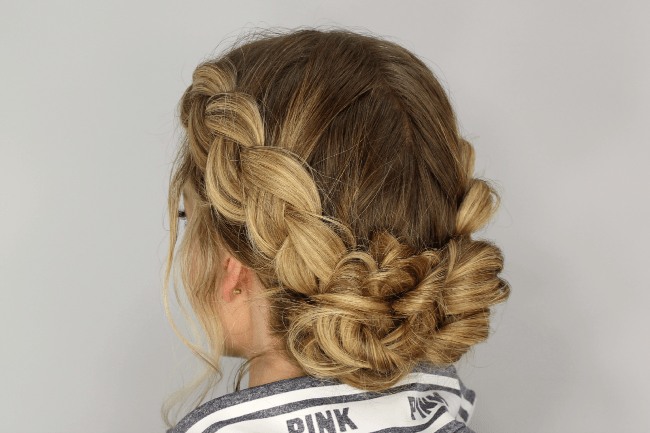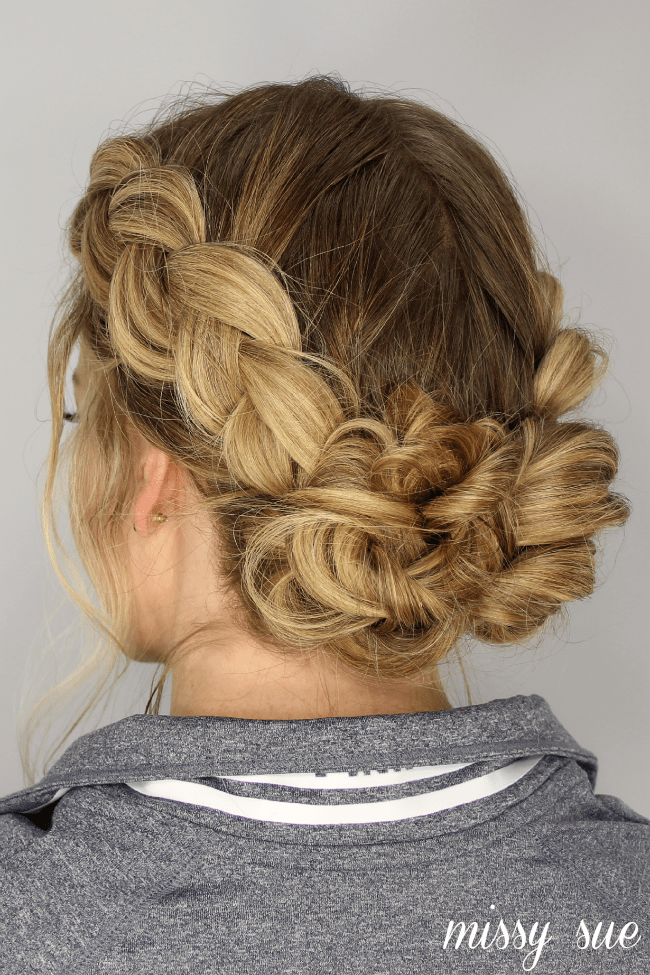 This hairstyle is one of my all-time favorites and has been ever since I was a young girl. I would always ask my mom to braid my hair in "two braids" because I loved the way it looked. Of course, there are a bunch of different ways to finish this style. Combine the ends together into a low ponytail, wrap them together into one low bun or braid the hair to the end for two braided pigtails. My new favorite is twisting the ends into two little buns for the perfect style to wear out on a casual day with friends, a trip to the beach, or a quick workout at the gym.
Dutch Braids and Messy Buns
Supplies: Brush, bobby pins, medium-hold hairspray
Step 1 / Begin by parting your hair in the most preferred place, left, right or middle. Then brush through it to remove any tangles.
Step 2 / Create a center part going down the back of the head to divide the hair into two halves.
Step 3 / Pin off the hair on the right to keep it out of the way while braiding the left.
Step 4 / Pick up a small section of hair near the hairline, on the left side, and divide it into three sections for the braid.
Step 5 / Cross the strand on the right under the middle, then cross the strand on the left under the middle.
Step 6 / Cross the strand on the right under the middle and pick up a section of hair, crossing it under the middle to incorporate it into the braid.
Step 7 / Now repeat the previous step with the strand on the left.
Step 8 / Continue braiding the hair in a dutch braid down towards the nape of the neck.
step 9 / Once the braid reaches the nape and all the hair is brought in, twist the section together and wrap it into a bun.
Step 10 / Secure it with bobby pins at the nape of the neck.
Step 11 / Now let down the hair pinned on the right and repeat the previous steps creating a second dutch braid.
Step 12 / Wrap the hair into a second bun and secure it in place with several bobby pins.
Step 13 / Spray the style with hairspray to smooth down any flyaways to set it in place.