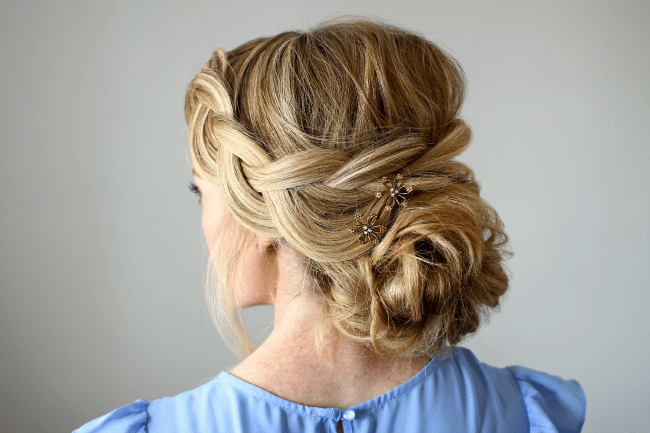 This wispy braid and low bun is a beautiful way to style hair especially during the summer heat. It is similar to the Soft Braided Updo but ten times easier and even quicker to do. It can be dressed up for attending a wedding, or worn casually for a date night out. Today I am also collaborating with Lilla Rose for another great giveaway! Don't miss out and read below for more details!
Wispy Braid and Low Bun Supplies:
Wispy Braid and Low Bun Instructions:
Step 1 / Brush through the hair to remove any tangles. With a part on the right side, pick up a small section of hair on the left side of the part. Divide it into three section and begin a dutch braid, crossing the side strands under the middle one. After one stitch, begin incorporating hair into the braid.
Step 2 / Continue braiding the hair, bringing in sections, until it reaches the temple.
Step 3 / Braid the rest of the section in a regular braid.
Step 4 / Pull on the edges of the braid until it is extremely wide and flat. Tie off the end with a clear elastic band.
Step 5 / Brush the rest of the hair into a low ponytail.
Step 6 / Tie the hair into a messy bun.
Step 7 / Grip a small section of the bun, bringing it up against the head, and pin it in place with a bobby pin.
Step 8 / Continue pinning sections of the bun until it creates a rounded shape and feels tight against the head.
Step 9 / Bring the braid around the back of the head and drape it over the top of the bun.
Step 10 / Wrap the end of the braid clock-wise around the right side of the bun and pin down the end with bobby pins.
Step 11 / Slide several Lilla Rose you-pins into the bun to add as an embellishment to the finished look.
Step 12 / Set the style with a firm-hold hairspray, leaving the finished look wispy and soft.