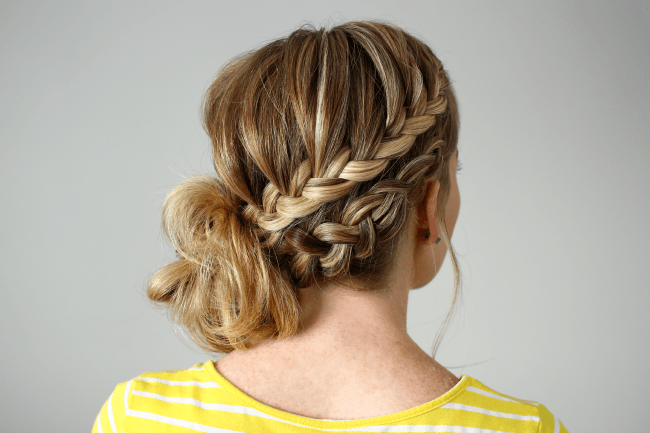 Braids are all the rage during the summer. Whether it be a dutch braid, a french braid, or just your everyday three-strand braid, this little touch of flair can be added to almost any style to give it an updated look. Why not add all three into one hairstyle? This braided updo is a great way to change an ordinary bun into an extra trendy and chic look!
Love this style? Be sure to check out the Casual Braid and Bun Updo and the Mixed Braids and Messy Bun!
Double Braided Side Bun Supplies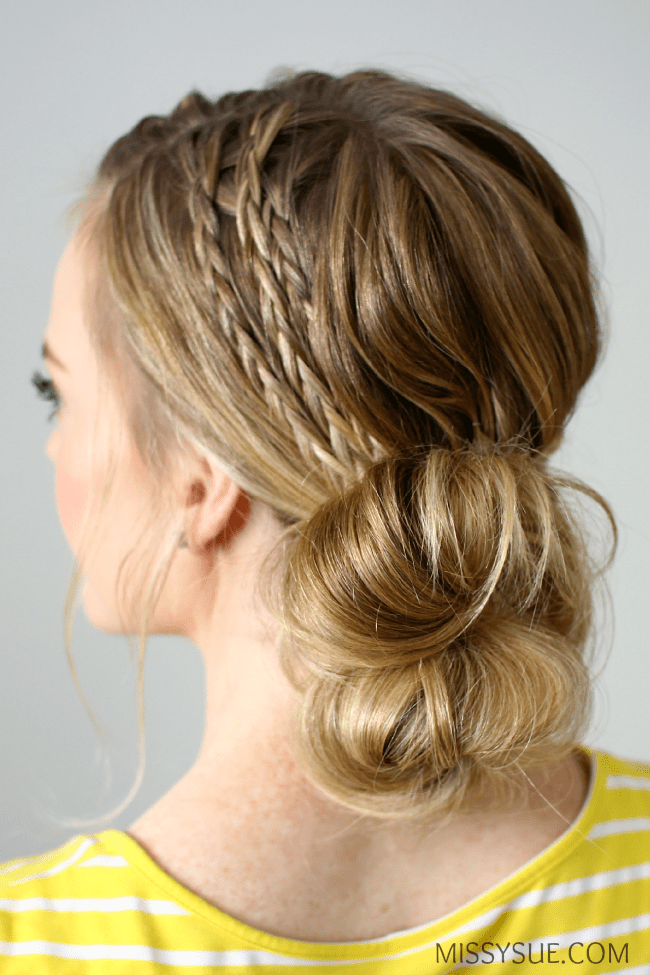 Double Braided Side Bun Instructions:
Step 1 / Brush through the hair to remove any tangles and create a part on the left side.
Step 2 / Create three small accent braids next to the part and tie each one off separately with a clear elastic band.
Step 3 / Separate the remaining hair into two sections, from the top right corner of the forehead, around the back of the head, to the top of the left ear. Tie off the bottom section with a hair band to keep it out of the way.
Step 4 / Pick upa small triangular shaped section near the part and being a french braid.
Step 5 / Continue braiding the section until it reaches the right ear.
Step 6 / Braid the rest of the section in a lace braid, trailing it towards the back of the head and to the left ear. Then tie off the end with a clear elastic band.
Step 7 / Let down the bottom section of hair, tied off earlier, and pick up a small section of hair above the right ear.
Step 8 / Create a dutch braid, trailing the braid towards the back of the head and to the left ear, directly underneath the lace braid above it.
Step 9 / Tie off the braid with another clear elastic band.
Step 10 / Wrap all the hair together into a low ponytail, off center slightly towards the left.
Step 11 / Remove all the elastic bands from the individual braids.
Step 12 / Wrap the ponytail into a messy bun.
Step 13 / Pinch and pull the hair above the braid to create a bit of volume.
Step 14 / Gently pull on the edges of the dutch braid to make it fuller.
Step 15 / Mist the entire style with a firm hold hairspray to set it.