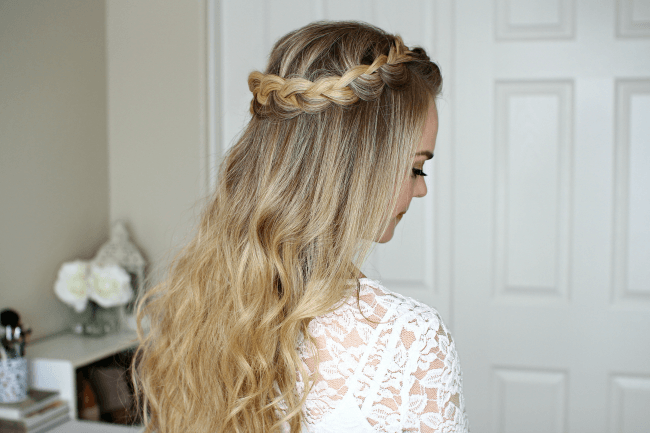 This Dutch Halo Braid is such a great staple hairstyle! The tutorial requests I receive the most are half up hairstyles and everyday hairstyles. I definitely think this works for both and once you master it I have no doubt it'll become one of your favorites.
There is an older tutorial for this hairstyle but I do it a little differently now. I asked on Instagram whether or not you'd love to see a new tutorial for this version and received a resounding 'yes!' I hope this tutorial will help give you a few new tips for creating your own version. If you love this hairstyle be sure to share it with your besties and remember to pin your favorite picture!

Dutch Halo Braid Supplies:

Dutch Halo Braid Instructions:
Step 1 / Prep the hair by curling it with a 1″ curling iron.
Step 2 / Then create a deep part on the left side.
Step 3 / Next pick up a small section of hair on the right side of the part. Divide this into three pieces for the braid.
Step 4 / Begin a dutch braid by crossing the back strand under the middle and then the front strand under the middle.
Step 5 / Now cross the back strand under the middle and bring a new section into the braid.
Step 6 / Then cross the front strand under the middle and bring in a new section of hair.
Step 7 / Continue the braid bringing in hair on both sides until it reaches the corner of the forehead, above the left temple.
Instructions continued:
Step 8 / At this point, stop adding in hair to the bottom side of the braid and only bring in hair from the top.
Step 9 / Slowly curve the braid around the head. Switch hands when the braid reaches the back of the head to make braiding the hair a little easier.
Step 10 / When the braid reaches the right side, switch hands again and continue bringing in hair from the crown. One trick that makes this part a little easier is to keep the braid as close to the head as possible. This helps minimize any bumps in the braid or along the top of the head. You can always go back over them and carefully push them down if you do.
Step 11 / Once all the hair is brought into the braid, braid the section to the bottom.
Step 12 / Now lay the braid over the head, tucking it behind the beginning. Slide bobby pins into the braid to pin it in place. You can pin it where ever it feels loose. I like to slide mine in horizontally. This helps them stay hidden a little better.
Step 13 / Now pull on the edges of the braid to make it a little wider. This will help hide the spacing between the two braids and any bobby pins.
Step 14 / Spray the style with hairspray and smooth down any flyaways with your fingers.