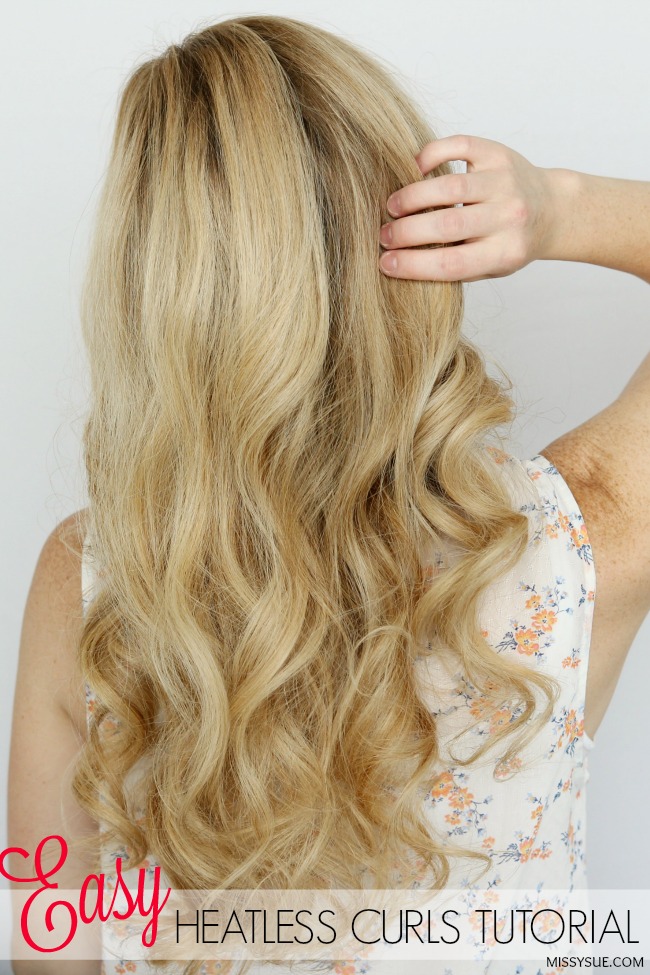 This summer it's time to put down those hot tools and try these heatless curls! Today I am partnering with Sally Beauty to share the perfect haircare cocktail to help repair your hair from the Summer's sun, heat, and humidity. These three steps will not only repair dry, damaged hair but help add moisture back in so it's shiny, luscious, and hydrated, keeping it healthy all summer long.
Watch the video to see how to create these easy, heatless curls or check out the step-by-step instructions below and achieve the hair you've always dreamed of!
Haircare Cocktail for Heatless Curls Supplies:
Step 1 / Healthy, hydrated hair always starts with clean hair. Using the right shampoo and conditioner is key to achieving the right hair for you. The Ion Moisture Shampoo from Sally Beauty provides powerful rehydration for dry hair. It gently cleanses while strengthening and conditioning dry, damaged or chemically-treated hair while giving it a more healthy appearance.
Follow it with the Ion Intense Moisture Conditioner designed to help protect, hydrate, and improve the manageability of your hair so it's vibrant, shiny, smooth and healthy looking. 
Step 2 / Apply the Ion Multi-Benefit Styling Creme to towel-dried hair. This lightweight and silky formula helps to improve the look and feel of hair while making styling easier. It's perfect for using with this heatless curl method because it softens, hydrates, and helps to de-frizz and smooth the hair.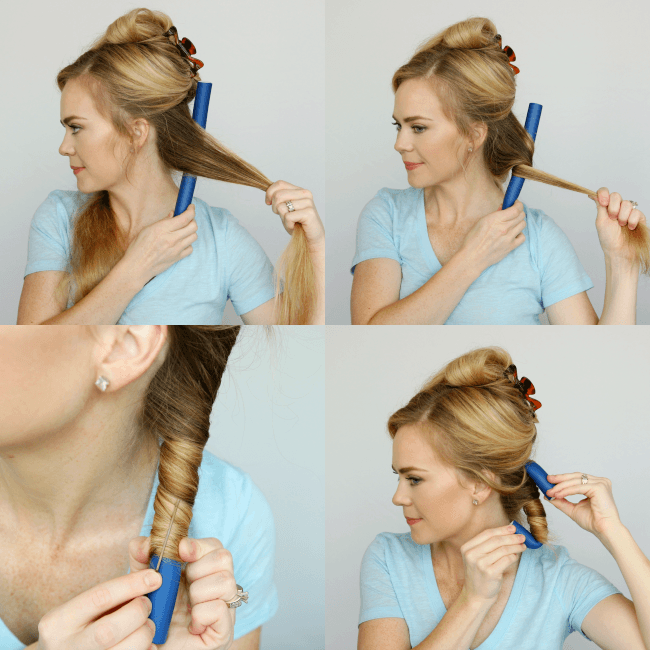 Step 3 / Brush through the hair to remove any tangles before dividing it at the top of the ears, clipping off the top sections. Take the hair left down and split into a left and right side. Grab a Salon Care 1″ Jumbo Soft Roller and place it behind the left section. Wrap the hair around the roller so it's going away from the face. Slide a bobby pin over the ends so it doesn't unravel. Then bend the top of bottom part of the roller up towards the middle.
Step 4 / Continue wrapping 2-3″ sections of hair around the foam rollers until all of the hair is wrapped. I used 8 rollers total for all my hair. These rollers are great because they are not only soft and flexible but create soft, natural curls that are perfect for everyday.
Step 5 / Let the hair dry for 1-2 hours or sleep on the rollers overnight. This is a great time to do chores around the house, apply your makeup, or catch up on your favorite tv episode. If you are short on time, grab the Ion Whisper Quiet Lite Blow dryer and quickly dry the hair to speed up the process.
Step 6 / Once the hair has thoroughly dried begin removing the foam rollers one at a time starting with the first one wrapped in and finishing with the last one wrapped in. Then run the fingers through the hair to help blend and soften the curls.
Step 7 / To finish the style, apply 2-3 drops of the One 'n Only Argan Oil to the very ends of the hair. This treatment is ideal for all hair types eliminating frizz and leaving the hair silky, smooth with brilliant shine. You can also apply it to wet hair before styling to reduce drying time and speed up styling time.
All of the products used in this post are available at any Sally Beauty store or online at SallyBeauty.com. Sally Beauty is a hidden gem for finding salon-quality products priced under $10 so you can easily achieve any look on a budget without having to sacrifice quality. They always stand by their Love It or Return It, Guarantee.
Thank you to Sally Beauty for partnering on this post.