I don't know about you but I am literally melting every time I go outside! It's probably because we're in Arizona and everyday it's over 100 degrees, seriously, I can't believe people still live here! Either way, today's tutorial is a great style for combating that dreaded heat. I know it can be so tempting to just throw your hair into a ponytail day after day. I often fall victim to the dreaded "low pony" but it's time to stop! Let's all quit those mundane styles together and try something a little more jazzy.
This hairstyle is both quick and easy, especially if you love your dutch braids, and can be worn nearly anywhere. Wear it to the pool, the grocery store, to return that 3-day late redbox, whatever's on your agenda, this style will work for you!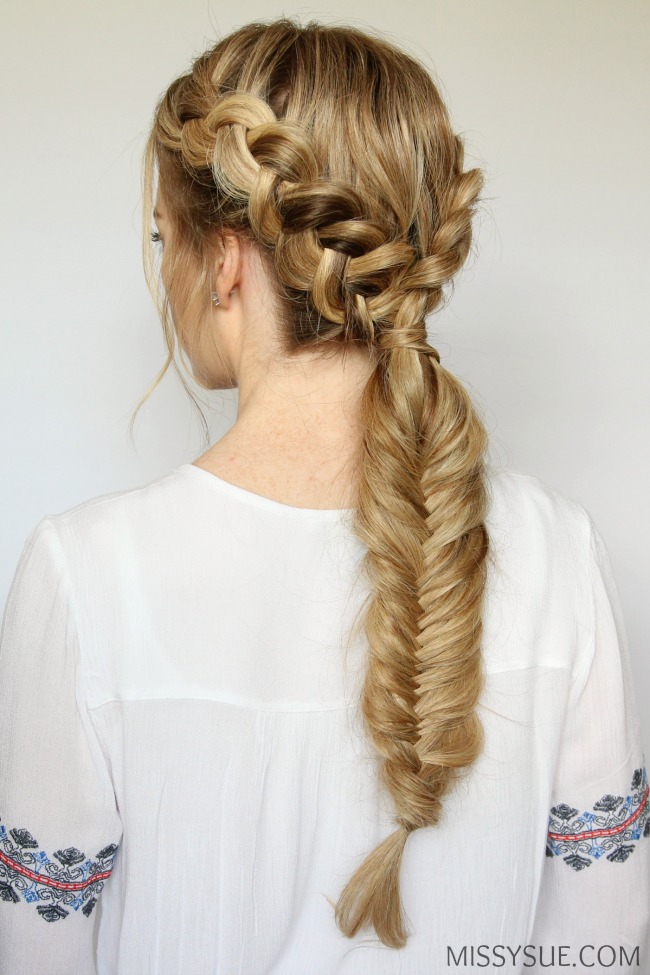 Double Dutch Fishtail Braid Supplies:
Rat-tail comb
3-4 Clear elastic bands
Medium-hold hairspray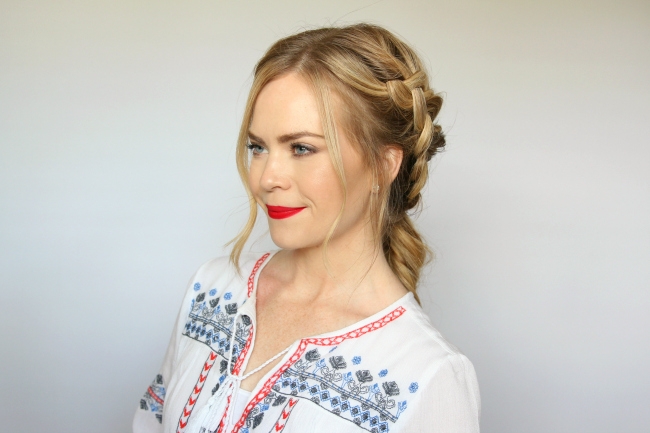 Double Dutch Fishtail Braid Instructions:
Step 1 / Brush through the hair to remove any tangles.
Step 2 / Part the hair down the middle and continue the part down the back of the head to create two equal sections, left and right.
Step 3 / Tie off the section on the right to keep it out of the way.
Step 4 / Divide out any pieces you'd like to frame your face from the section on the left.
Step 5 / Pick up a triangle shaped section near the part and hairline and divide it into three equal pieces.
Step 6 / Begin a dutch braid by crossing the side strands underneath the middle strand.
Step 7 / Now start incorporating hair into the side strands and continue crossing them under the middle strand, braiding the left section into a dutch braid from the hairline down to the nape of the neck.
Step 8 / Gently pull on the edges of the braid to make it wider and more full.
Step 9 / Tie off the end of the braid with clear elastic band.
Step 10 / Let down the section on the right side and braid it into a second dutch braid, finishing where the other braid ends; pull on the edges and tie off the braid with another elastic band.
Step 11 / Combine the two braids together and tie them into a low ponytail.
Step 12 / Remove the elastics from the individual braids.
Step 13 / Divide off a small section from the ponytail and wrap it around the elastic band, pinning it underneath with bobby pins.
Step 14 / With the ponytail, braid it into a fishtail braid by splitting it in half and crossing small sections from the outer edges over to the opposite side until reaches the ends.
Step 15 / Pull on the edges of the braid to make it fuller and tie it off with an elastic band.
Step 16 / Set the style with hairspray and smooth down any flyaways.