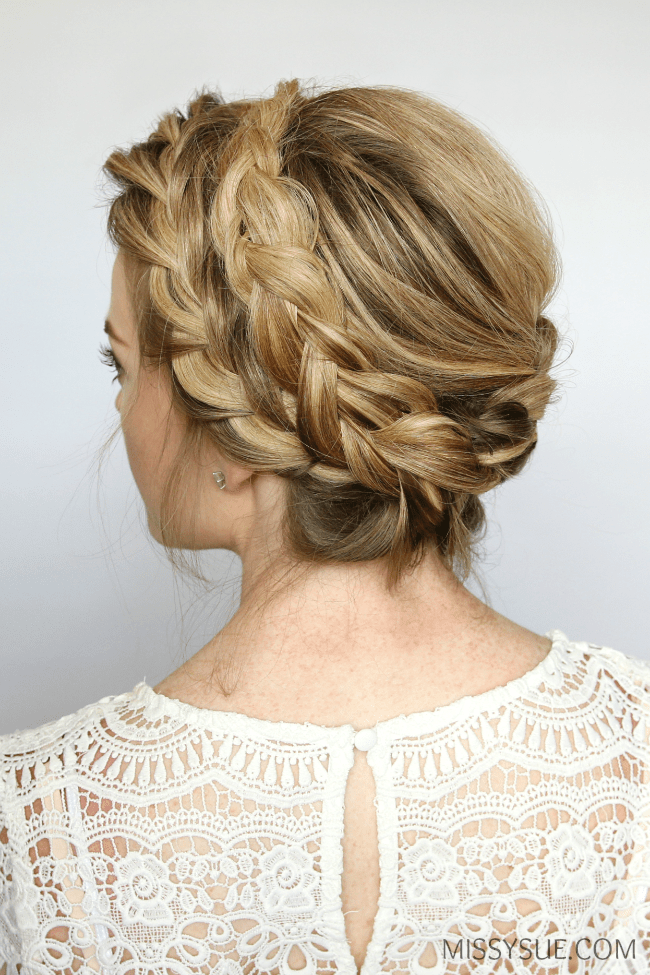 Crown braids are some of my absolute favorite hairstyles ever!  They are great because they are not only a heatless style but great for everyday while still being soft and feminine. For this tutorial I will be showing you how to create a french braid style crown braid, done with a milkmaid twist. By doing it this way you won't have those odd bumps that usually show up on one side when braiding the hair in a complete circle around the head. I have yet to figure out the secret to getting that method absolutely perfect so until then, let's get on with these French milkmaid braids!
French Milkmaid Braids Supplies:
French Milkmaid Braids Instructions:
Step 1 / Brush through the hair to remove any tangles. I am working with second day hair and leftover curls.
Step 2 / Next par the hair where you normally prefer it; mine is on the right side.
Step 3 / Divide off a section of hair at the crown, twisting it together and pinning it against the head.
Step 4 / Create a part underneath the pinned section to divide the hair into two sections.
Step 5 / Pick up a slice of hair near the part on the left side and divide it into three pieces.
Step 6 / Begin a french braid by crossing the side strands over the middle, incorporating hair into the braid, and braiding to the nape of the neck until all of the hair from this side is brought in.
Step 7 / When all of the hair is added in then braid to the ends and secure the bottom with either an elastic band or I just criss-crossed two bobby pins so it doesn't unravel.
Step 8 / Now create a second french braid on the right side, securing the end with more bobby pins.
Step 9 / Once both braids are done, gently pull on the edges to make the braids wider and more full. This will help hide the part lines created with the top, pinned section.
Step 10 / Then criss cross the two braids at the back of the head, bringing each one up the corresponding side and laying one over the other at the top of the head.
Step 11 / Secure the braids in place with several bobby pins and set the style with hairspray!