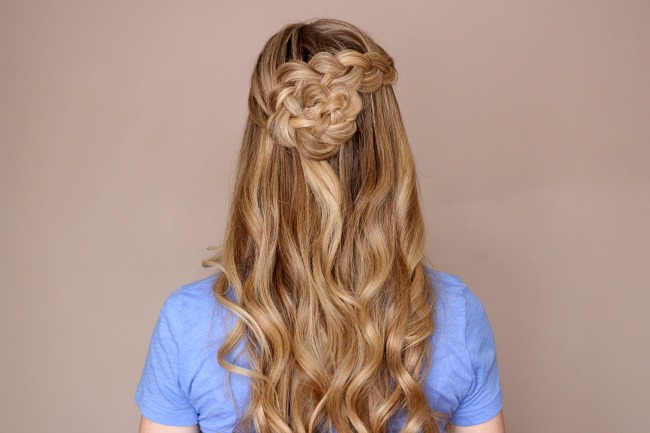 I am suffering from some major Spring fever now that Valentine's day is over. What's the next holiday??? Naturally I created this hairstyle on a whim one day while getting ready to run errands and loved the quick technique behind tucking the braid to create the flower. If you want to see it for yourself then be sure to check out the tutorial below!
Half Up Braided Flower Supplies:
Half Up Braided Flower Instructions:
Prep: Before beginning this style, I curled the hair with a 1 1/4″ curling iron and brushed through it to remove any tangles.
Step 1 / With a part on the left side, pick up a section of hair above the right ear and divide it into three pieces.
Step 2 / Cross the side strands underneath the middle strand to begin a dutch braid.
Step 3 / Now cross the top strand under the middle and bring in a section of hair.
Step 4 / Cross the bottom strand under the middle but don't incorporate any hair into the braid on this side.
Step 5 / Continue the braid crossing it over the back of the head horizontally.
Step 6 / When the braid gets closer to the left side, start curving the braid downwards, bringing in the last section of hair near the hairline on the left side of the part.
Step 7 / Then braid the section to the bottom, securing the end with two criss-cross bobby pins to keep it from unraveling.
Step 8 / Take the braid in the right hand and slide the left hand underneath it.
Step 9 / Grab the end of the braid with the left hand and hold the middle of the braid with the right hand.
Step 10 / Lower the left hand, bringing the middle of the braid up towards the horizontal braid along the back of the head creating a complete circle with the braid.
Step 11 / With the tail of the braid hanging downwards, flatten the braid against the head and pin it in place with bobby pins.
Step 12 / Gently pull on the outside edge of the braid to make it look more like a flower.
Step 13 / Remove the bobby pins from the end of the braid and carefully unravel it.
Step 14 / Spray the style with a firm-hold hairspray to set it.