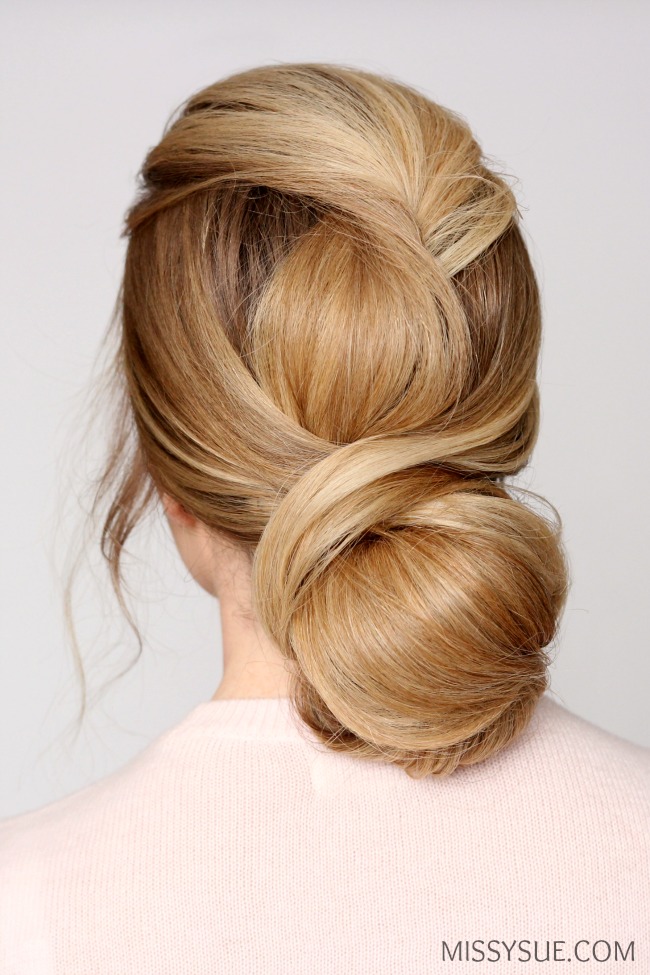 A delicately wrapped low bun, this style would be perfect for that special evening out. It turned out differently than originally anticipated but I love the result regardless. This style is both sleek and elegant and may appear intricate at first but, of course, once it's broken down into steps, you will see how easy it can be to recreate. I hope you love it!
Wrapped Low Bun Supplies:
Wrapped Low Bun Updo Instructions:
Prep: Brush through the hair to remove any knots. Divide the hair into four sections; a section from the hairline back to the crown, a section on the right and left side above the ears, and a back section.
Step 1 / Wrap the back section into a low ponytail, only pulling the hair halfway through on the last loop to create a bun with the ends hanging down.
Step 2 / Combine the ends and bring them up the left side of the bun, towards the top of the head.
Step 3 / Carefully drape the ends over the bun, spreading the hair over the top, wrapping it once clock-wise around it.
Step 4 / Slide a bobby pin or two into the ends, concealing them underneath the bun.
Step 5 / Let down the section at the crown and twist the section together clock-wise.
Step 6 / Bring the section down the left side of the bun, wrapping it underneath and back up the right side.
Step 7 / Cross the ends over the base of the bun and continue wrapping the section until the entire piece is wrapped.
Step 8 / Pin down the end with more bobby pins, being sure to conceal them inside the hair.
Step 9 / Let down the section on the left side and drape it back towards the bun.
Step 10 / Wrap it clock-wise over the bun, around the right side and underneath towards the left.
Step 11 / Continue wrapping the piece clock-wise before securing the ends with bobby pins.
Step 12 / Take the twist from the crown section and carefully fan out the edges to make it wider and more full; sliding a bobby pin into the top to ensure it stays secure.
Step 13 / Next drape the section from the right side over the bun.
Step 14 / Continue wrapping the piece counter clock-wise around the bun until reaching the ends.
Step 15 / Pin down the section with bobby pins.
Step 16 / Curl any pieces framing the face and set the style with a firm-hold hairspray.