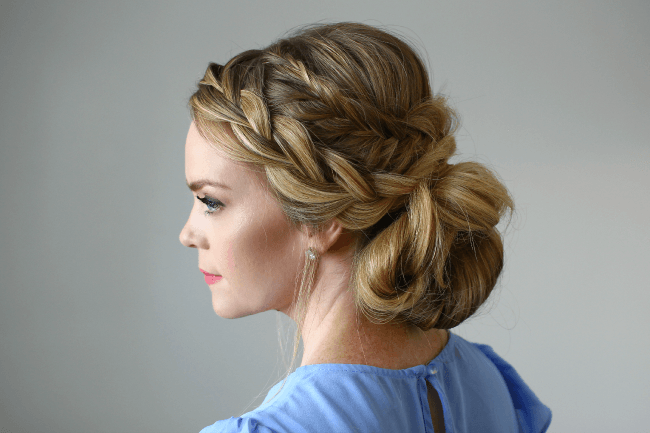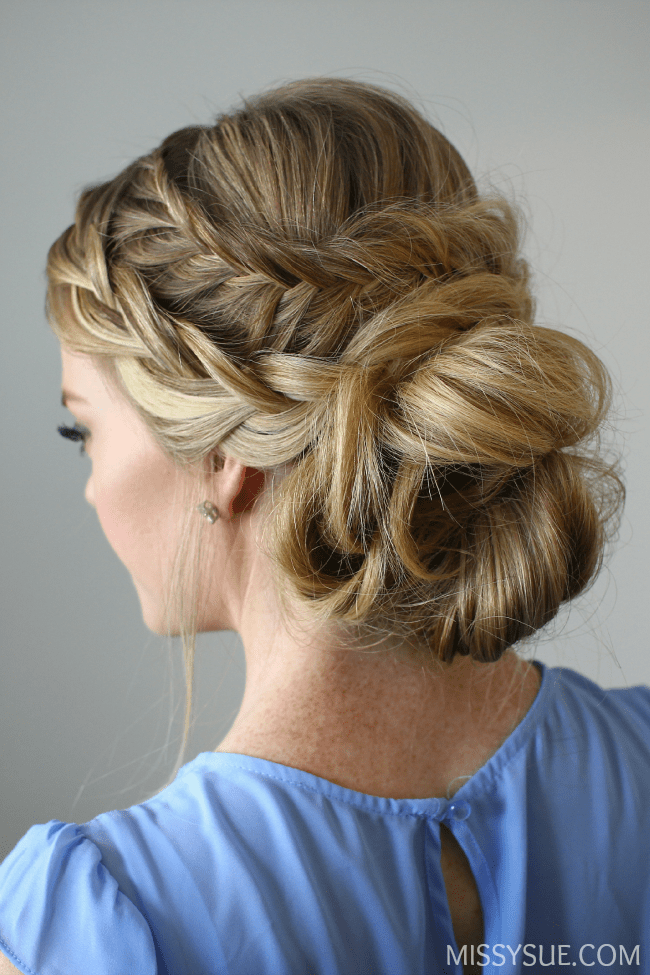 This 'Stacked Fishtail French Braid Updo' is a spinoff of the Fishtail and Dutch Braid Messy Bun. It incorporates a french braid instead of a dutch braid and the fishtail braid only has hair brought in on one side. This version is a little fancier but can be worn anywhere, Sunday brunch, out with friends, or even to a more special occasion.
Try these gorgeous updos next!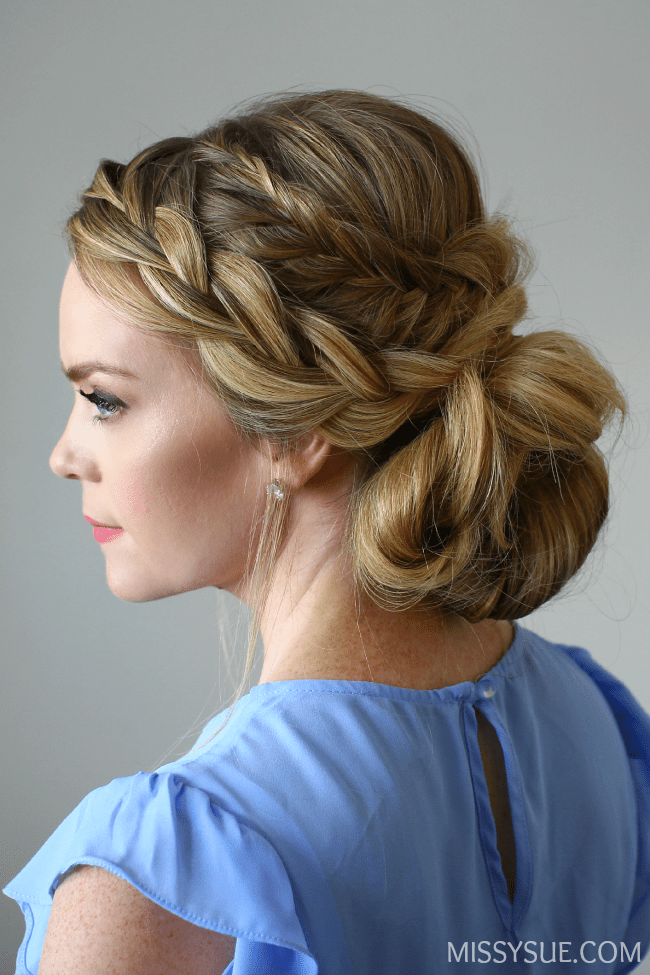 Stacked Fishtail French Braid Updo Supplies:

Stacked Fishtail French Braid Updo Instructions:
Step 1 / With a side part, divide off a section of hair from the part to the left ear.
Step 2 / Clip off the back portion with a sectioning clip.
Step 3 / Divide the front section into two halves and clip off the back portion.
Step 4 / Create a french braid with the remaining front section and tie off the braid with a clear elastic band.
Step 5 / Let down the other half previously pinned back.
Step 6 / Braid this section in a french fishtail braid, only bringing in hair on the left side of the braid, creating a "lace" style braid.
Step 7 / Tie off the end of the braid with a second elastic.
Step 8 / Let down the rest of the hair and tie it into a low ponytail near the nape of the neck, slightly off center. On the last loop, when tying the ponytail, only pull the hair halfway through creating a loop with the ends of the hair sticking up and outwards.
Step 9 / Use a teasing comb to gently back comb the ends of the hair sticking out from the bun.
Step 10 / Bring the teased pieces against the head and pin them against the head creating a messy bun.
Step 11 / Now lay the fishtail braid above the braid against the head and pin it in place, tucking the tail under the bun.
Step 12 / Lay the french braid underneath the fishtail braid, over the bun, pinning it as well.
Step 13 / Mist the style with a firm-hold hairspray and glide a hand over the bun and braids to smooth down flyaways.
Details – Nordstrom earrings, MAC 'In Anticipation' liner, MAC 'Please Me' lipstick, Forever21 shirt (similar)