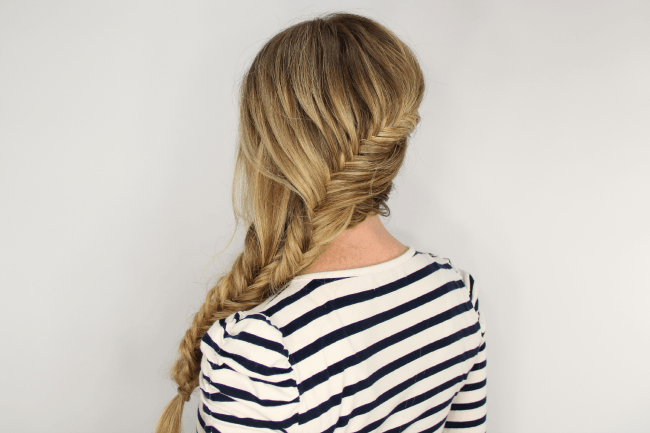 This hairstyle was inspired by a picture I saw recently. Of course it didn't actually turn out to look anything like the picture, haha! I wanted to create two fishtail braids on top of each other but as I was braiding decided to slide in some extra pieces along the way and created this side-swept effect in the back. Then I twisted the two braids together for the finished look and am pretty much obsessed with how it turned out. I love wearing braids during Summer and think this look is a perfect way to amp up that old fishtail braid into something a little extra special.
Fishtail Twisted Side Braid
Step 1 / Begin by parting the hair on the same side of the head that you want your braid to hang down. I put my part on the left side since my braid will hang over my left shoulder.
Step 2 / Pick up a section of hair on the right side of the head from the part down to the ear and begin a Fishtail French Braid.
Step 3 / Braid the hair, angling it towards the center of the back of the head. When bringing in hair from the bottom side of the braid keep it close to the braid since we will be creating a second braid underneath this one.
Step 4 / Once the braid reaches the center of the back of the head, begin bringing in sections of hair that are hanging down underneath the braid. Bring in sections so you get closer to the right ear, working "backwards" to create the sweeping effect that you see at the end.
Step 5 / When all the hair from the top of the head is brought into the braid, braid this section in a regular braid, without adding any hair into it. Tie off the end with an elastic band.
Step 6 / Create a second Fishtail French braid by picking up a small section of hair behind the right ear and braiding in the rest of the hair, working towards the left side of the nape of the neck.
Step 7 / When all the hair is brought in, and it reaches behind the left ear, braid it down in a regular fishtail braid tying off the end with an elastic band.
Step 8 / Wrap the two fishtail "ends" around each other and tie them together with a third elastic band.
Step 9 / Remove the two elastics from the individual braids and gently loosen the sides of the braids by pulling on the edges to make them more full.
Step 10 / Spray the style with hairspray and smooth down any flyaways.