Criss cross half updo is a fancy take on the traditional half back style.  Each piece is crossed over one at a time so it is a little easier to achieve than it looks.
I love this style because it is a great way to dress up an every day style so you feel more done up without a ton of extra work. It can even be worn without the clip during the day for a more casual style then extra fancy at night or to an event with the sparkly accessory added in.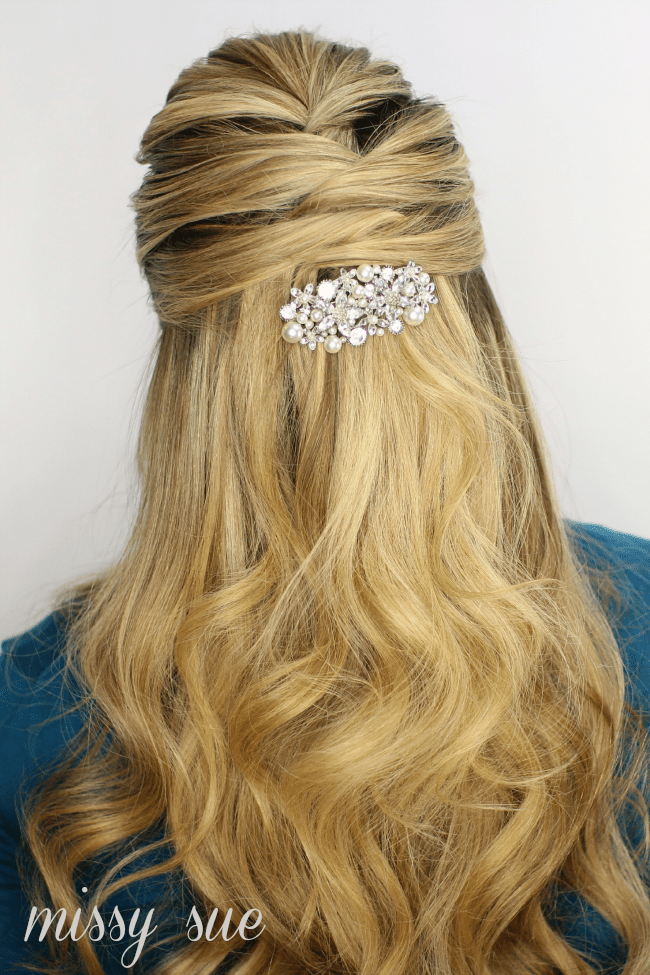 Criss Cross Half Updo
Step 1 / Start by picking up a section of hair, at the corners of the forehead, and bring it straight back towards the top of the crown.
Step 2 / Twist the section so the right side crosses over the left and slide in a pin to hold it in place.
Step 3 / Next, pick up a section of hair on the left side, between the first section and the ear, and wrap it over the pinned portion securing it with another hair pin.
Step 4 / Take the same section on the right side, wrapping it over the top and pinning it down.
Step 5 / Pick up one more section above the left ear, crossing it over the top, and pinning it down.
Step 6 / Then repeat step 5 on the right side.
Step 7 / Once all the hair is secure then slide a hair accessory over the middle.