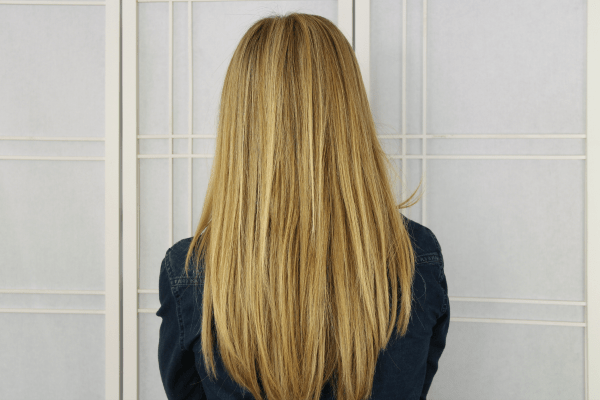 How to Highlight Hair Extensions is a great tutorial for updating the shade of your extensions so they match your new hair color. Dyeing and cutting your extensions so they blend with your real hair is an absolute must!
When I bought my first set of extensions I made sure they matched my natural hair color. It is a dark blonde color and in many brands is labeled as shade #8. They matched perfectly and I loved that. They looked natural and blended perfectly with my hair.
When I decided to gradually go a little blonder, suddenly my hair extensions didn't match as well and when I wore them my entire head grew darker because the extensions overwhelmed the blonde I had added in. I knew I needed to give them a few highlights so they would blend better with my new hair color.
I asked my hair lady if she would be able to dye them for me but when she said no I took it as the perfect opportunity to share how I would do it at home.
I knew I could just buy a new set of extensions but they run anywhere from $80-$200 whereas a box of dye is only $10.
I have been dyeing my own hair for years now so the idea of doing it myself didn't seem like a big deal to me.
If you are new to the idea, I would recommend trying it out on one strip of extensions first to see how it turns out. Of course, "practicing" on extensions is always better than practicing on your own real hair.
After dyeing my extensions, the color wasn't as blonde as I was hoping for so I ended up doing this routine once more a few weeks later. My hair is even blonder now so I have recently been considering dyeing them a third time.
It's either that or buy a new set so we'll see if I can stomach up 3 hours of extension dyeing again! Hahaha, all that cropped down into a 3 minute video – you're welcome, my lovelies. (:
I also cut and layered these extensions too so they would blend better with my hair. You can watch the tutorial for that as well here, How to Cut and Layer Extensions.