Embellished Braided Updo was the top vote from 20 Braids Try-Outs, #4, and has earned its very own tutorial post.
It was originally scheduled to be included in the series 20 Braids for Spring but was cut because I actually didn't think you would like the hairstyle as much. Boy was I wrong, haha!
This hairstyle came about randomly one night while I was playing around with my hair. At the end of the night, once all my makeup is washed off, I end up standing in my bathroom, trying out random hairstyles that my mind has thought up throughout the day.
It is always fun when they work out and I was excited to share this one with you so I am glad it was so highly voted for!
Let me tell you, I recently dyed my hair a little bit darker. Have you noticed? I added in a few streaks of dark blonde because I still attempting to grow out my hair a little bit and  abstaining from highlights helps keep it healthier.
I love being blonde but finally decided it was better to have long hair than blonde hair. So, tell me, what do you think?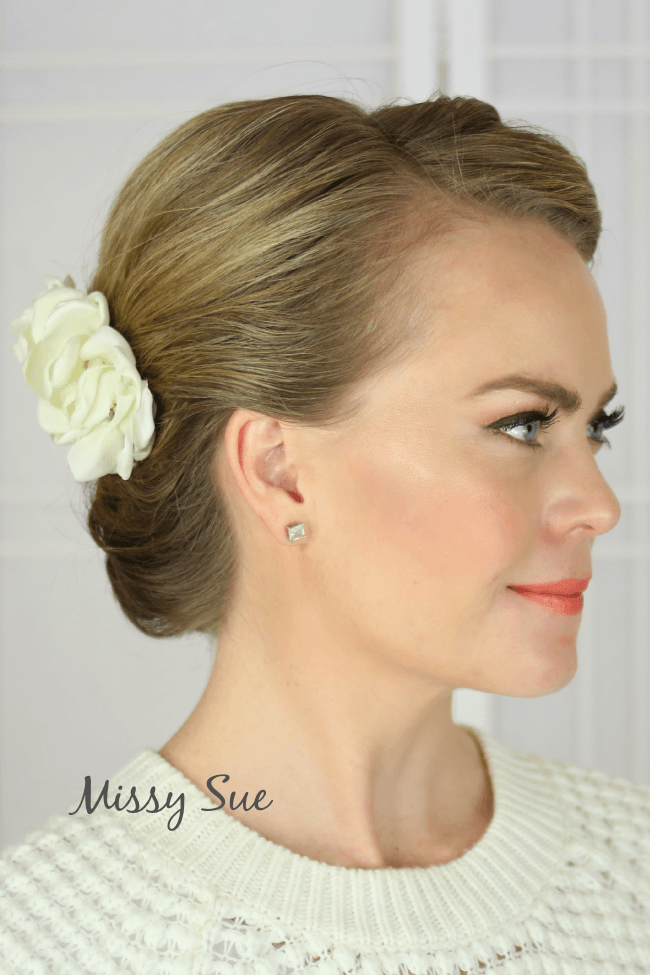 Here are the steps! (you knew this was coming right?)  (:
Step 1 / Begin by separating the hair from ear to ear in an upside down U shape.
Step 2 / Pin off the top section to work with later.
Step 3 / With the bottom section left down, place a few pins over the hair, near the top, to add grip for the rolled portion.
Step 4 / Take a 1″ section of hair on the right side and roll the hair upwards creating a loop and slide in a pin to secure it.
Step 5 / Repeat step 4 with the rest of the hair until it is all rolled upwards creating a looped bun.
Step 6 / Next, let down the top portion of hair.
Step 7 / Take a section of hair near the left ear and divide it into three sections.
Step 8 / Begin a braid crossing each outside strand over the middle.
Step 9 / Bring in a strand of hair from the top of the head to create a lace braid.
Step 10 / Continue braiding until the braid reaches the right ear and all the hair is pulled in.
Step 11 / Finish braiding the hair into a regular braid.
Step 12 / Tie off the end with a clear, elastic band.
Step 13 / Now lay the braid directly underneath the lace braid so it is resting right above the rolled bun.
Step 14 / Place pins between the braids to hold it in place.
Step 15 / Now, loop the tail back again and tuck it underneath the braid.
Step 16 / Pin down any loose portions of the braid.
Step 17 / Next, grab a fun flower clip and slide it on the right side of the braid, above the bun.
Step 18 / Finish with hairspray and you are set!
I hope you love the look! I know I sure do (: