Elsa Coronation Hair from Frozen (Disney) is a great hairstyle for everyday!
I am obsessed with the look and love how big the twist is on Elsa herself! I loved both Anna and Elsa from the film, Frozen, and love how the movie turned out at the end when Elsa unfreezes Anna.  Not to mention how glad I was when Kristoff won out in the end. I think my favorite character though had to be Olaf and I definitely loved Sven! It is so hard to choose! I may just need to go watch the movie again!
In case you missed it, see the Frozen Elsa Braid Remix too!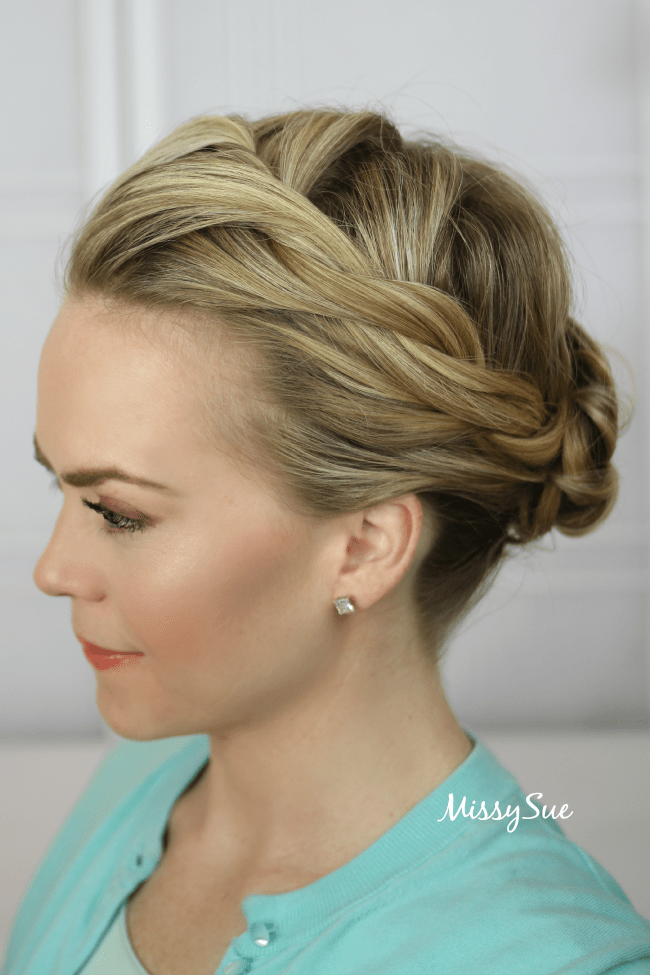 Here are the quick steps to achieving the style:
Begin by parting the hair in a deep side part on the right side of the head.
Take a section of hair along the part on the heavy side.
Separate this section into two halves.
Cross the strand closest to the face over the other strand.
Now twists the strands once more.
Take a slice of hair directly behind the twist and bring it forward towards the face.
Add it into the strand that is in the right hand, closest to the face.
Now twist this strand over the other so they have swapped places.
Repeat step 6, bringing in another section of hair and adding it to the strand closest to the face.
Cross the strands once more creating another twist.
Continue this way until all the hair has been twisted together.
Place the hair into a ponytail at the nape of the neck.
Twist the ponytail and gently loosen the sides to create a messy twist.
Wrap the hair around the base of the ponytail and pin it in place.
Finish with some hairspray to smooth down flyaways.
Done!