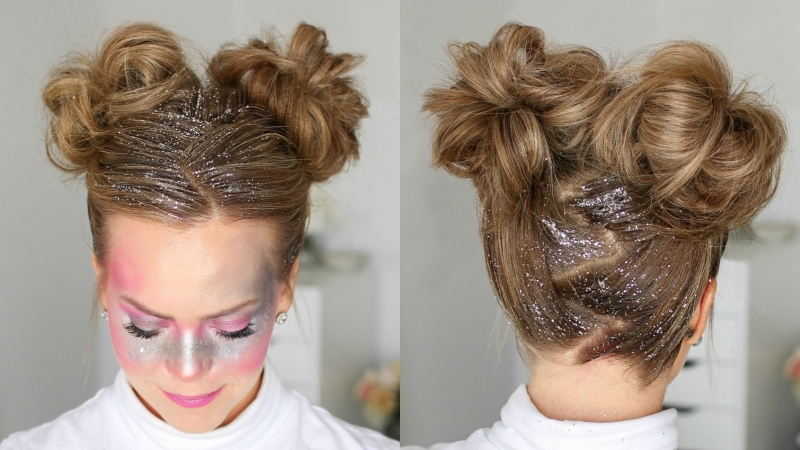 Happy October!
Halloween is coming up soon so I'm excited to be sharing my first Halloween tutorial. I am not a fan of wearing intricate, fussy costumes so today I'm sharing how to recreate these easy double messy buns for this galaxy/space/alien girl.
This is my "signature" bun so if you've been following me for a while then you've seen me do this style of bun hundreds of times! It's forever a favorite!
Comment below what you're planning to be for Halloween! Thank you so much for watching! xoxo, Missy
Galaxy Girl Glitter Buns Supplies:


Galaxy Girl Glitter Buns Instructions:
Step 1 / Start by parting the hair in a zigzag part slightly off center.
Step 2 / Continue the part down the back of the head to split the hair into a left and right side.
Step 3 / Tie off the left section of hair
Step 4 / Brush the right section up into a high ponytail near the crown of the head.
Step 5 / Wrap a hair tie once over the hair then twist it over the right hand.
Step 6 / Spread the hair around the hair band forming a donut shape and then wrap the hair band twice more over the hair to form the base of the bun.
Step 7 / Pull on the edges of the bun to make it really big and full.
Step 8 / Take the ends left sticking out and wrap these back towards the front of the bun tucking them in to form a loop.
Step 9 / Pin down the edges of the bun so it's flush with the head.
Step 10 / Let down the left section of hair and repeat the same steps creating a second bun at the crown of the head next to the first one.
Step 10 / Mix a quarter size amount of hair gel with some glitter.
Step 11 / Then paint the glitter along the edges of the part to finish the style.