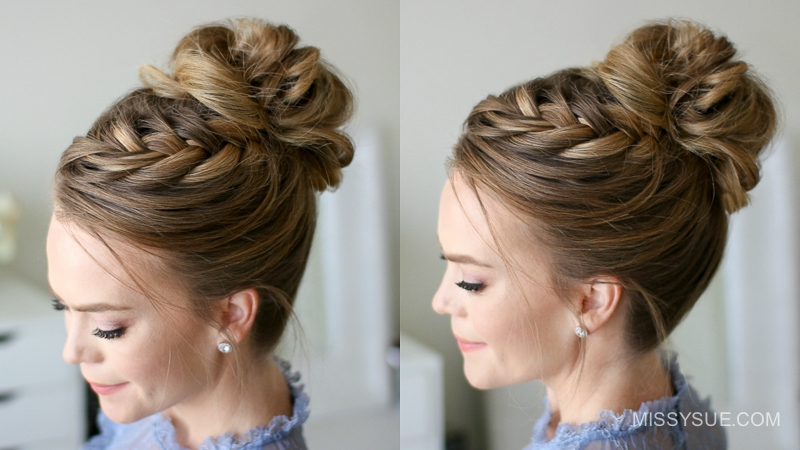 It's officially the Christmas season so I'm excited to be sharing a pretty updo that would be fun to wear to any holiday party.
Last year I posted a similar style with a lace braid and you all seemed to love it so much that I thought it'd be fun to share a similar style but with a new type of braid and bun.
Of course, this hairstyle would be lovely to wear all year round for whatever occasion you choose so if you do decide to recreate this look, be sure to tag me on Instagram or Twitter (@MissySueBlog) so I can see it!
Thanks so much for watching! xoxo, Missy

Fishtail French Braid High Bun Supplies:
Rattail comb
2 Bobby pins
Hair band
Medium-hold hairspray
Fishtail French Braid High Bun Instructions:
Step 1 / Begin by parting the hair on the right side.
Step 2 / Now pick up a small section of hair near the part and divide it into two sections for the fishtail braid.
Step 3 / Start by crossing a small section from the right side over to the left side.
Step 4 / Then cross a small section from the left over to the right.
Step 5 / Now cross a small section from the right side over to the left, pick up a new section of hair and cross it over to the left side as well.
Step 6 / Then cross a small section from the left side over to the right, pick up a new section of hair and cross both over to the right side.
Step 7 / Then just repeat these steps continuing the fishtail french braid, making sure to keep the braid high up along the side of the head and angling it back towards the crown.
Step 8 / Once hair is brought in above the left ear, stop adding in new hair and just braid the rest of the section to the ends.
Step 9 / Then cross two bobby pins over the bottom so it doesn't unravel.
Step 10 / Now brush the rest of the hair up into a high ponytail adding the braid in last.
Step 11 / Then take a hair band and wrap it once over the ponytail.
Step 12 / Then twist it over the dominant hand, remove the bobby pins from the ends of the braid and unravel it.
Step 13 / Now spread the ponytail around the hair band to form the base of the bun and then wrap the hair band twice more over this bun.
Step 14 / Now gently pull on the edges of the bun to make it bigger and tighten it against the head.
Step 15 / Then take the ends that are left sticking out and bring these around to the front of the bun.
Step 16 / Create a rope braid with this section by diving it into two sections and twist them around each other until it reaches the bottom of the hair.
Step 17 / Then gently pull on the edges of the twist to make them bigger.
Step 18 / Now wrap the braid around the base of the bun and pin the ends down with bobby pins, hiding them underneath.
Step 19 / Set the style with a medium or strong hold hairspray