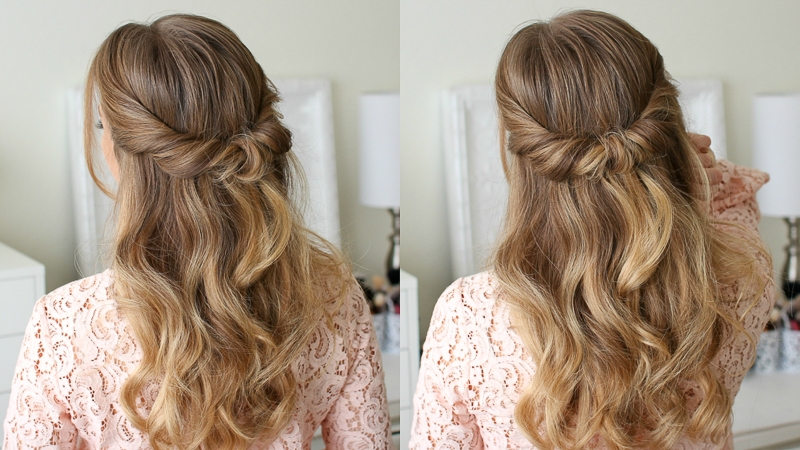 I've been wanting to post more half up styles since you guys are always requesting them and this hairstyle is super easy and perfect for everyday too!
From start to finish this hairstyle takes less than five minutes. It's super quick and yet looks really elegant and put together. I think it'd be a great style to wear to any upcoming holiday party as well. Be sure to let me know what you think in the comments below! Make sure to give this video a thumbs up if you like the hairstyle as well!
Thanks so much for watching! xoxo, Missy


Looped Half Updo Supplies:
Rattail comb
Elastic band
2 Bobby pins
Medium-hold hairspray
1 1/4″ Curling iron


Looped Half Updo Instructions:
To prep my hair for this style I curled all of my hair away from the face with a 1 1/4″ curling iron.
Step 1 / Begin by parting your hair where you normally part it. I've put mine on the right side.
Step 2 / Next divide off a section of hair on both sides of the head, from the part line down to the ears.
Step 3 / Twist this hair together and bring the two sections together at the back of the head.
Step 4 / Gently pull on the bottom of the twists to make them bigger and more full.
Step 5 / Now tie the two twists together with an elastic band.
Step 6 / Pick up a one inch section of hair underneath the right twist.
Step 7 / Wrap this section around the twist twice, towards the elastic band at the middle.
Step 8 / Pin down the section with a bobby pin, underneath the elastic band.
Step 9 / Now pick up a second section of hair underneath the left twist.
Step 10 / Wrap this around the left twist, twice, and pin it in the middle underneath the elastic band.
Step 11 / Set the style with a medium-hold hairspray.