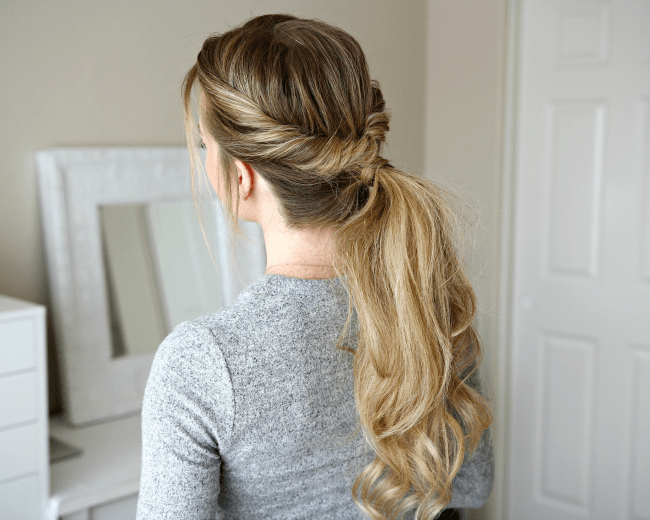 Ponytails are such a great go-to hairstyle. They're quick, easy, and get all of your hair up and out of the way. I really, really love them. In fact, I find myself wearing them way more often than I'd like to admit.
A few weeks back I posted a picture of this hairstyle on instagram and received so many requests for a tutorial. I thought I'd quickly throw one together and while I recreating it, realized I was feeling a lot more pressure to make it cleaner than I had for the instagram pic. I always feel like I can make an instagram pic more breezy and loose but that's what's so great about hair! It's so easy to slightly alter a look to make it fit your own personal style. Whether it's smooth and sleek or casual and carefree, it can be tweaked to fit whatever vibe you're going for that day.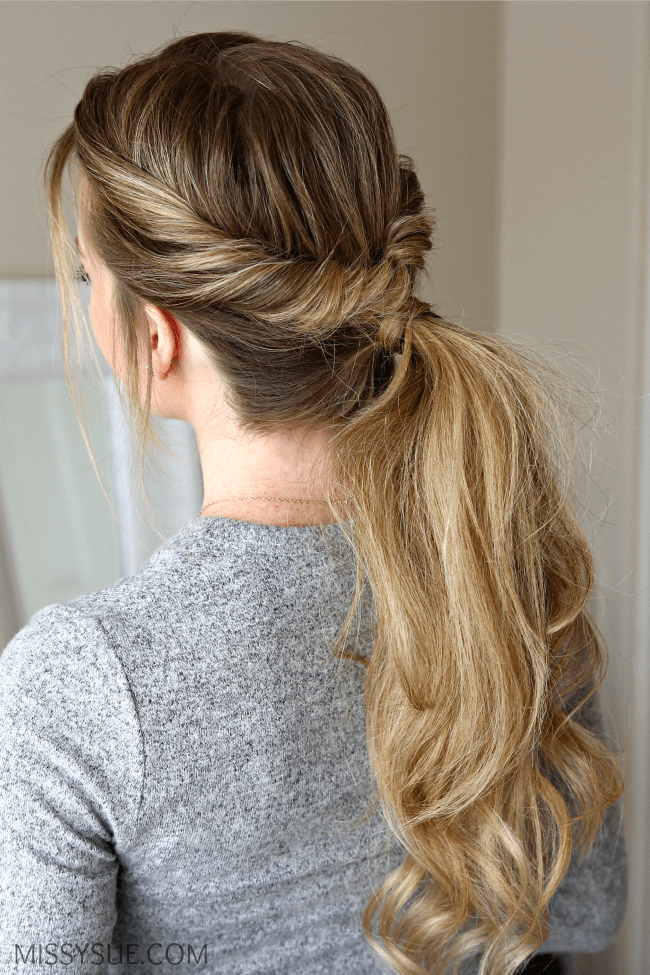 Everyday Flip Twist Ponytail Supplies:

Everyday Flip Twist Ponytail Instructions:
Prep: I curled all of my hair with a 1 1/4″ curling iron before starting and added in 4 single clip extensions.
Step 1 / Begin by parting the hair where your normally prefer; mine is slightly off-center towards the left. Next divide off a triangle shape section from the part about an inch above the left ear. Twist this section together towards the back of the head.
Step 2 / Now divide off a similar size section on the right side of the head. Twist the section together and bring it towards the back of the head. This can be kind of tricky but it's doable with concentration.
Step 3 / Tie the two twists together with a clear elastic band.
Step 4 / Now flip the tail up and around the elastic band to tighten the twists. Then go back over them, gently pulling on the twists to make them a little fuller. You can go nuts and make them more big and loose if you'd like.
Step 5 / Combine the rest of the hair together and tie it into a ponytail with a hair band, directly underneath the flipped section.
Step 6 / Take a small section of hair from the ponytail and wrap it around the hair band. Pin it in place with a bobby pin.
Step 7 / Extra step: I back combed the base of my ponytail to make it fuller and set everything with hairspray.

Shop the post:
[show_shopthepost_widget id="2515683″]