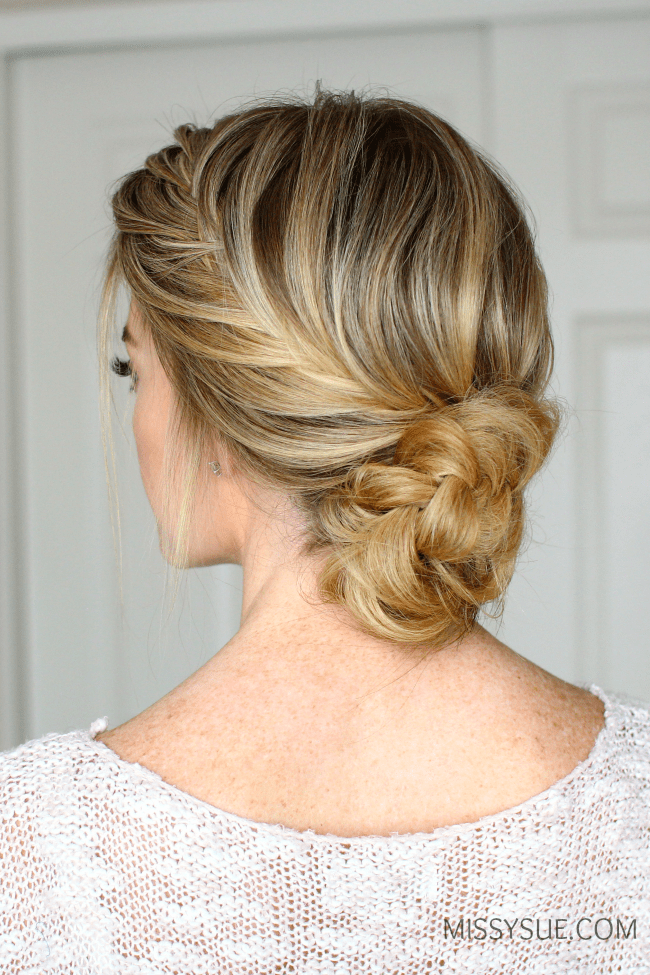 Valentine's day is next week and I think this hairstyle would be perfect for the occasion. I know this hairstyle might seem a little fancy but just in case you feel like going all out for the holiday this only takes a few minutes to do. I love fishtail french braids because they always feel a little extra dressed up. It would also be so easy to switch out the bun for your favorite one instead. If you decide to recreate this look then please let me know in the comments!

Fishtail Braid Updo Supplies:


French Fishtail Braid Updo Instructions:
Step 1 / Begin by parting the hair in a deep side part on the right side.
Step 2 / Pick up a section of hair on the heavy side of the part and divide it into two pieces.
Step 3 / Begin a fishtail braid by crossing a small piece from the right side over to the left. Then cross a small piece from the left over to the right.
Step 4 / Continue crossing small sections from one side over to the opposite side and begin incorporating new sections into the braid.
Step 5 / Continue braiding the hair into a fishtail french braid. Angle the braid at a diagonal down the back of the head towards the right side of the nape of the neck.
Step 6 / When all of the hair is added into the braid continue the fishtail braid, braiding the section down to the ends.
Step 7 / Criss cross two bobby pins over the ends to keep the braid from unraveling.
Step 8 / Go back over the braid, pulling on the edges to make it wider and more full. This is important for the bun portion of this hairstyle.
Step 9 / Once the braid is a little bit bigger, take it up the left side and fold it over itself, laying it against the nape of the neck.
Step 10 / Slide bobby pins around the braid to secure it against the head. You can use as many bobby pins as you need. I sort of weaved them through the hair to create a better grip.
Step 11 / Once it's all pinned go back over the braid , pulling on the edges to make the bun a little bigger. Adjust any sections until you like the way it looks.
Step 12 / Set the style with hairspray and smooth down any flyaways.