Half Up Tiny Twists is a simple tutorial and easy way to add a bit of spice to your everyday curls. This hairstyle features four little rope braids tied together at the back of the head and embellished with a tiny bow. A rope braid is created by twisting two sections of hair together while simultaneously twisting each piece in the opposite direction.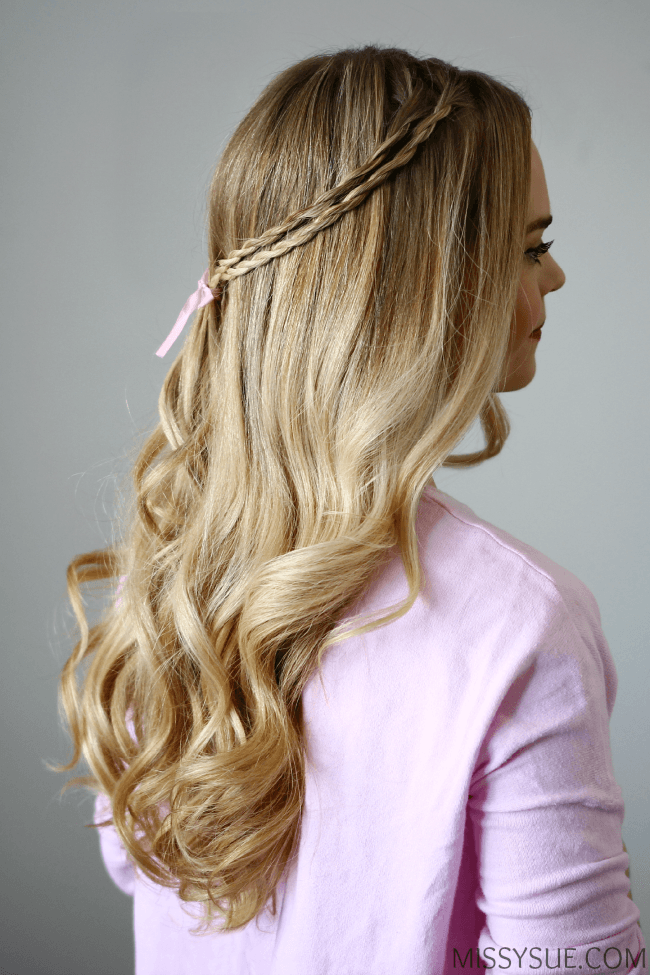 The first time I ever saw this type of braid was in the 9th grade when a girl wore one to school. It was so gorgeous I had to ask her how it was done and when she explained it to me, I couldn't believe I hadn't know about it before. A definite must-have technique to add to your braiding repertoire!
Leave a comment below if you would love to see a video tutorial on how to create a rope braid! 
Half Up Tiny Twists Supplies:
Half Up Tiny Twists Instructions:
Step 1 / Part the hair in the center and brush through it to remove any tangles. Separate off a 1″ section on the left side of the part.
Step 2 / Pick up another 1″ section of hair behind the first and divide it into two pieces.
Step 3 / Create a rope braid, or twisted braid, by twisting each piece forwards, towards the face before twisting them around each other, the twist closest to the face wrapping over the behind piece. Tie off the end of the twist with a clear elastic band.
Step 4 / Create a second rope braid directly behind the first.
Step 5 / Repeat the previous steps on the right side of the head, creating two more rope braids.
Step 6 / Bring all four braids around to the back of the head. Pick up a small section of hair from the back of the head and tie it to the four twists. This section of hair will keep the twists for sliding up the head throughout the day.
Step 7 / Remove the individual elastics from the rope braids and brush through the hair.
Step 8 / Tie a ribbon over the elastic band, add in some curls to the ends of the hair, and spritz the style with a medium-hold hairspray to set it.