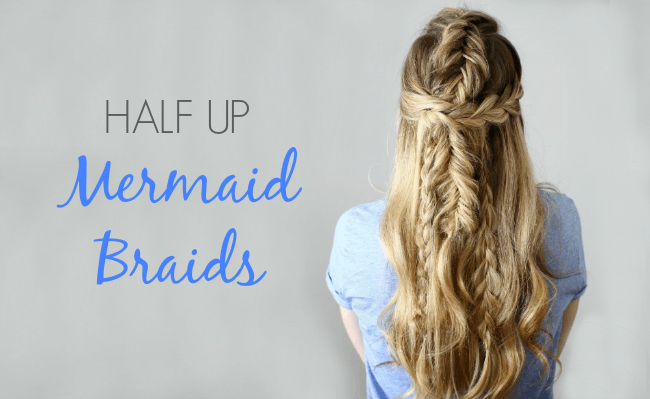 Bohemian braids, mermaid hair, intricately looking hairstyles are so on-trend for Summer that I simply couldn't resist creating a tutorial from the inspiration. I have been seeing the coolest combination of braids lately and am absolutely head over heels in love with them. This hairstyle is great because it can be switched up to accommodate your own personal style and mixed and matched with your favorite braids. This particular tutorial includes a dutch fishtail braid, a small twisted section, and three regular braids. Change out any of them for your specialty and see what you can create!
Half Up Mermaid Braids
Step 1 / Section off a portion of hair from the hairline to the center of the top of the head.
Step 2 / Create a Dutch fishtail braid until the braid reaches the back of the crown. Then braid the rest of the section in a regular fishtail braid and tie off the end with an elastic band.
Step 3 / Gently pull on the edges of the braid to make it appear more full. Tip: Pulling it loose from the elastic and then carefully retightening the elastic higher up helps the braid keep its "pulled-out" shape.
Step 4 / Pick up a new section of hair, along the hairline, from the braid down towards the left ear.
Step 5 / Twist this section together and wrap it over the top of the fishtail braid.
Step 6 / Pin down the twist so it crosses over the braid.
Step 7 / Pick up a similar sized section, along the hairline on the right side, and braid it into a regular braid.
Step 8 / Cross it over the fishtail braid, and over the twisted section, and pin it down next to the fishtail braid.
Step 9 / Pick up a 1-2″ section of hair, on the left side of the fishtail braid, and create a regular braid, tying off the end with an elastic band.
Step 10 / Create a similar sized braid on the right side of the fishtail braid before setting it with a medium-hold hairspray.