I have been so inspired by different updos recently and since prom is right around the corner, felt this would be perfect for the occasion. Of course, this soft twisted updo would be gorgeous at a wedding as well but wearing it for any date night out would be fun too.  It has the same feel as the
Looped Updo
 but with fewer buns and a softer twist, so it is perfect for that special night on the town. Where would you wear it? Don't forget to tag me on social media with #missysue so I can see your recreation of this style!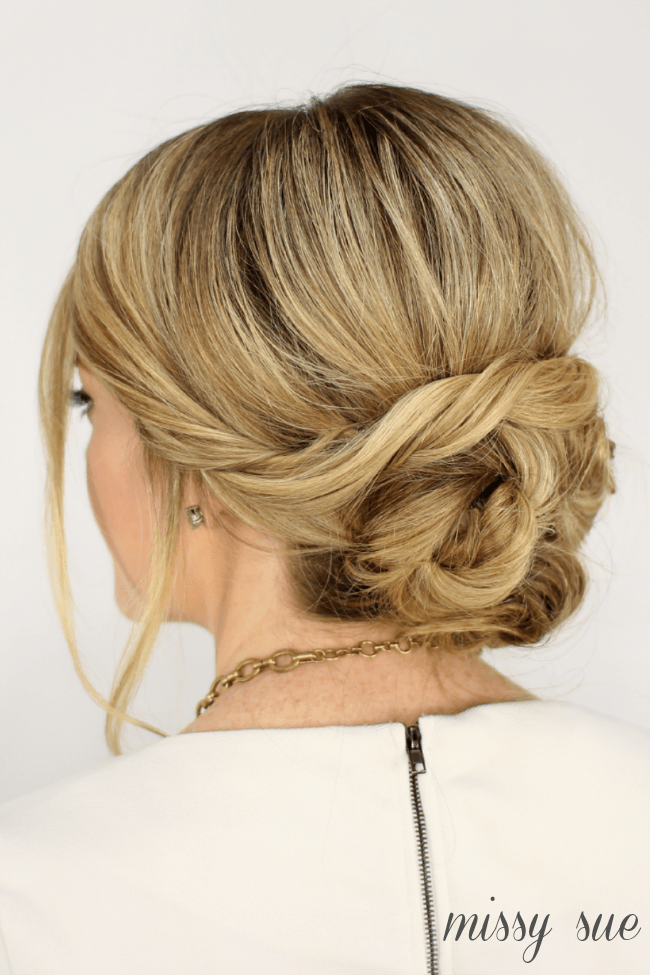 Soft Twisted Updo
Step 1 / Begin by separating off a section of hair from the part to the left ear and clip off the front piece.
Step 2 / Create three buns at the back of the head by picking up a section on the left side of the head, twisting the section around the fingers and pulling the tail through the space created by the fingers.
Step 3 / Place the bun against the head and pin it in place.
Step 4 / Create a second bun to the right of the first bun, pinning it in place.
Step 5 / With the remaining hair hanging down, create a third bun and secure it with hair pins.
Step 6 / Let down the hair pinned in step 1 and create a rope braid.
Step 7 / Divide the section into two pieces and twist each one over the other.
Step 8 / Lay the twist over the top of the buns at the back and pin down the tail.
Step 9 / Slide some pretty hair combs into the hair on the right side to add a bit of glam.
Step 10 / Spray the style with hairspray and smooth down any flyaways.