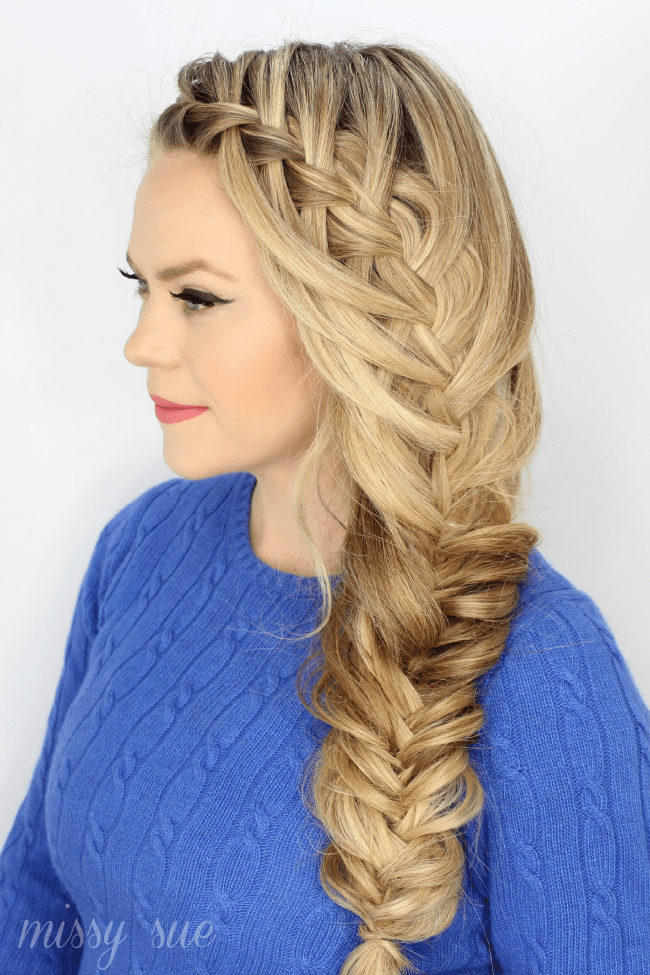 Fishtail braids are so trendy right now and absolutely perfect for Spring. I have been obsessed with these waterfall styles, first in the Looped Half Up Crown Braid then the Cascading Waterfall Side Braid, so I really couldn't resist putting it together with a fishtail braid.  I recently wore it to lunch with my mom and posted a pic on instagram. It was such a hit I figured it needed its own tutorial. I hope you love it as much as I do!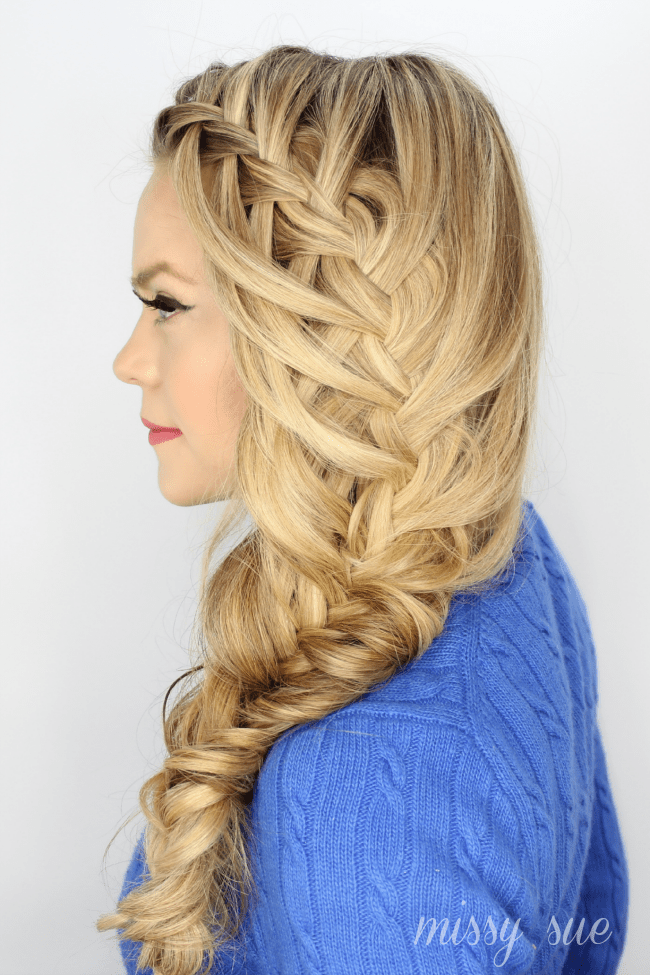 Cascading Waterfall Fishtail Braid
Step 1 / With a part on the right side, pick up a section of hair on the heavy side of the part and divide it into three sections.
Step 2 / Cross the back strand over the middle then cross the front strand over the middle.
Step 3 / Next, cross the back strand over the middle and bring in a section of hair incorporating it into the strand.
Step 4 / Then, repeat step 3 with the front strand.
Step 5 / Repeat step 3 once more with the back strand.
Step 6 / Then, split the front strand into two equal halves crossing one half over the middle strand.
Step 7 / Drop down the other half and pick up a new section of hair incorporating it into the crossed over piece.
Step 8 / Repeat steps 5 through 7 until there are four waterfall strands hanging down.
Step 9 / Now, continue the same steps, splitting the strand, crossing over half, picking up a new section of hair, but then bring in the first waterfall strand and incorporate it into the braid.
Step 10 / Continue braiding, until it reaches the shoulder.
Step 11 / Now pick up the rest of the hair so there are two sections.
Step 12 / Braid the rest of the hair down into a fishtail braid and tie off the end with an elastic band.
Step 13 / Gently loosen the sides of the braid to show the details better and create a more voluminous braid.