Pregnancy brings about a slew of changes not only with a growing baby bump but with your hair and skin too! I wanted to share with you my 10 makeup must haves for pregnancy to help showcase that inevitable pregnancy glow. Along with a few tips and tricks to help combat my more oily skin, frequent breakouts and dark under eye circles from all the restless nights.
10 Makeup Must Haves for Pregnancy
1.    Estee Lauder Double Wear Foundation – A really great foundation has been an absolute must for me during this pregnancy. My skin is a lot more oily than usual and having a foundation that stays in place all day has been a life saver. My skin tends to break out more than usual as well so a full coverage makeup has really put my mind at ease. I went through quite a few before finally landing on this one and found it to be the only one that could combat my oily skin while also lasting 12+ hours.
2.    Estee Lauder Double Wear Concealer – Since becoming pregnant, my under eye circles have compounded immensely. There isn't a day that goes by, no matter how much sleep I get, that I don't wake up with dark circles. I literally have no clue why or what but this concealer is such a full-coverage base that I really can't go a day without it.
3.    Make Up Forever HD Powder – Applying a powder after my foundation never used to be a problem. Now with my "glowing skin" I really can't imagine leaving the house without first setting my makeup with a great powder. I love this one in particular because it's a colorless powder so it doesn't change the shade of my makeup and give me a darker face than the rest of my body; a real problem when your foundation shade is literally the lightest shade available.
4.    MAC "Sculpt" Sculpting Powder – Literally the best contouring shade I have ever come across. It's a pro shade so it comes as is, a single metal dish, but it is so easy to apply and blend, and looks completely natural on the skin. I usually love NARS Laguna and MAC Matte Bronze but would definitely recommend this one instead if you have paler skin like I do. Check out this post to see more details about how I contour.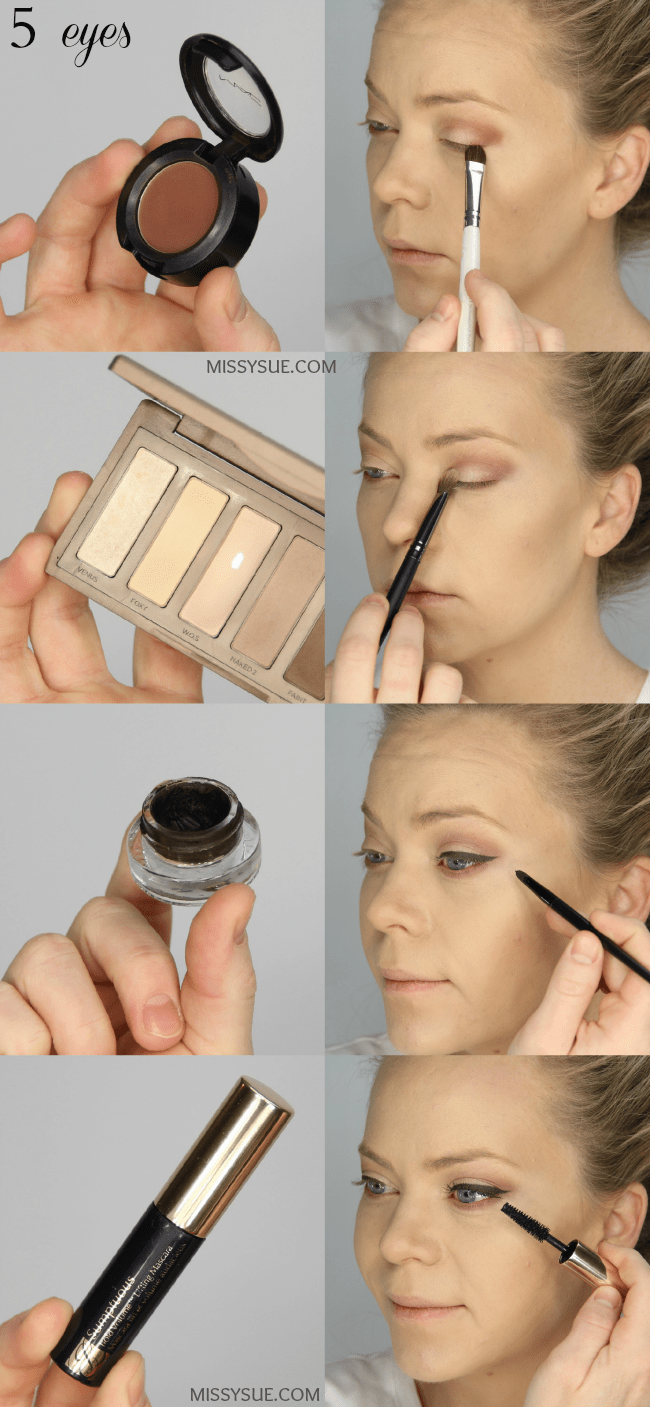 5.    After contouring my crease with the sculpting powder, I go back in with MAC Swiss Chocolate  and deepen up the color a little bit. It's  a warm brown so it looks more natural against the skin and really helps add a bit of detail to eyes. Next, I apply Venus from the Urban Decay Naked Basics palette to my eyelid to highlight the area and make the eyes appear larger, more awake, *wink. Then I apply eyeliner with a small flick using the Maybelline gel liner and finish off the eyes with a great mascara. I have been loving the Estee Lauder Sumptuous Bold mascara.
6.    Deepening your brows can really be the cherry on top of your entire makeup look. I personally love to dye mine a darker shade at home but always fill them in as they begin to lighten. The shade Naked2 from the Urban Decay Naked Basics palette is absolutely perfect for my naturally dark blonde brows and it also makes it convenient to toss into my bag when we are traveling or running out the door late for work. I follow the powder with Benefit's Speed Brow to ensure they stay in place all day long.
7.    Highlighting is another new addition to my makeup routine but one I can't go a day without doing. It really brightens the skin, making it look more alive and awake. Something completely necessary when pregnant and tossing and turning all night long. I start with MAC shaping powder in Emphasize applying it to my cheekbones, the center of my forehead, down my nose, and on my chin. Then I apply MAC Soft 'n Gentle to the cheekbones for a hint of sheen.
8.    NARS Orgasm Blush – Blush is always a must and I usually switch this around wearing different ones but this shade is absolutely gorgeous and really my go-to when I feel like my skin is looking a little more drab than usual. It's a soft pink color with a hint of peach sheen so it easily does the job when wanting to look more awake.
9.    For an everyday lip I always choose a nude or pink shade over a bold one. As much as I love a deep vintage wine or bold red lip, a soft color is always perfect especially for the office. Here I am applying a Rimmel lip liner in Nude and topping it with my favorite MAC lipstick, Peach Blossom. When I am feeling super lazy I will apply MAC Dervish lip liner and a sheer chapstick or lip gloss over the top.
10.    MAC Fix+ – Once everything is applied, I love to set everything with this because it leaves the skin feeling refreshed and I love knowing everything will stay in place throughout the day.