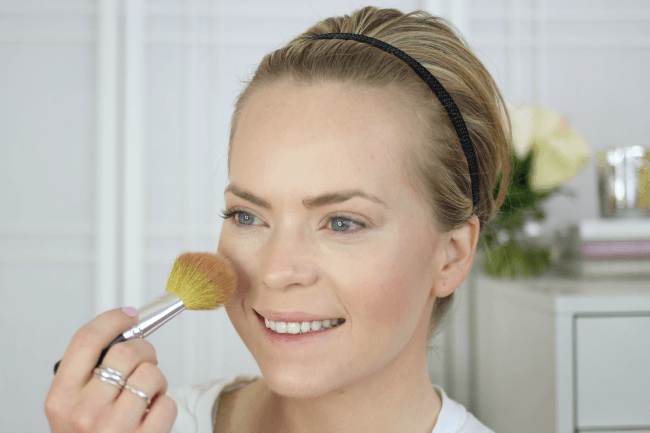 Highlight and Contour tips are a beauty guru's holy grail. Needless to say, this technique changed the way I see makeup.
I didn't start highlighting and contouring until about a year ago but every day I practice and perfect the art of application. My sister came over the other day and I went to work chiseling out her cheekbones, highlighting the center of her face and adding a hint of color to her cheeks; the difference was amazing. Her skin was bright and glowing and she walked out of there beaming.
Makeup is fun and I love putting it on every morning. My own blank canvas to work with and create something fun and new every day.
1. After applying primer and foundation, take a concealer that is a shade lighter than your skin tone. I am using Active Light from Jane Iredale. I also love MAC Pro Longwear Concealer.
Start by tracing lines, underneath the eyes, downwards toward the cheeks. Also place the product in the center of the forehead, down the nose, and on the chin. Then blend it out with a brush or makeup sponge.
2. Next, grab your favorite powder that is a shade lighter than your skin tone. I am using Emphasize from MAC. Pat this powder over the concealer you placed on your forehead, nose, under the eyes, and on the chin. *Note: if you have dry skin I highly recommend skipping this step.
3. Contouring is the next step and key to this entire look.  Grab your favorite contour powder, I am using Matte Bronze by MAC, though I also recommend NARS Laguna Bronzer. Placement is the trick here so slide the color right underneath your cheek bones and blend it upwards.
4. Next drag the color underneath your jawline and blend it down onto your neck. This will chisel your jaw like you wouldn't believe!
5. Then, take a fluffy brush and gently sweep the color on either side of the nose.
6. Brush a little underneath your bottom lip.
7. Finish by placing it in the crease on your eyelids.
8. Then, take a liquid highlighter, I love Benefit's High Beam, and place a few swipes on your cheek bones. Blend it in with your ring finger.
9. This may feel like an extra step but it will take your look from "Hey!" to "Oh my, what makeup are you wearing?!?"
Brush Soft 'n Gentle on top of the High Beam (now here's the trick) then brush it on the center of your forehead, down your nose, and onto your chin.
10. By now your face is so chiseled and shimmery that you will start to second guess all the work you just did. Do not despair. Grab your favorite blush, I highly recommend Whisper by Jane Iredale, and sweep it right onto the apples of your cheeks. Smile big and you'll know right where they are.
11. Don't forget to fill in those brows, add a hint of lipstick or gloss, and finish with a superb hydrating spray. Done, darling!