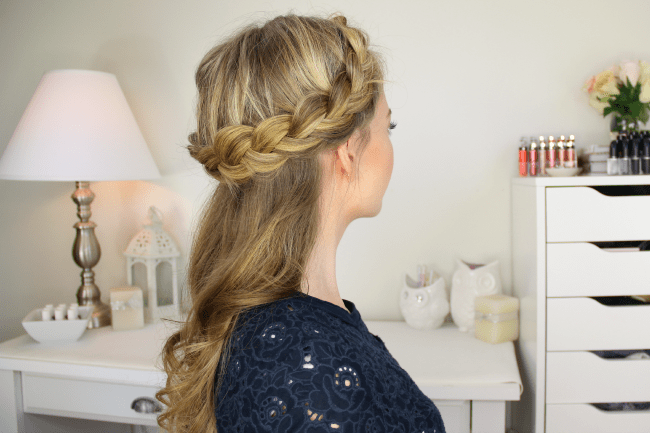 Half Up Crown Braid is the half up version of the Dutch crown braid. I recently posted a new version with a flower crown which is the same technique but minus the flower crown.
I love this hairstyle because I absolutely love wearing a crown braid. It always seems to be the perfect hairstyle for combating the summer heat. I wore it a few times on our trip to Bear Lake, which you can see here in case you missed it.
Wearing this half up version was especially fun because it still feels fancy, yet casual since some of the hair is left down. It is the same technique as the crown braid tutorials above but with a slight tweak when braiding the hair at the back of the head. You will see what I mean in the video tutorial below.
I hope you love it as much as I do and give it a try!
Click through for the video tutorial…

Follow these steps for the Half Up Crown Braid:
Start by creating a deep side part on the right side.
Next, take a section on the heavy side of the part.
Divide this section into three equal pieces.
Begin a dutch braid by crossing the back strand under the middle.
Then cross the front strand under the middle.
Now when the back is crossed under the middle, bring in a section of hair and add it into the strand.
Repeat step six with the front strand, bringing a section of hair which creates the dutch braided effect.
Continue steps 6 and 7 until the braid reaches the top of the left ear.
When the braid crosses around the back of the  head, pull in pieces of hair, on the bottom portion, that are closer to the braid. This will make it harder to tell that hair is being brought.
Add in hair from the top of the head and usual.
Continue braiding around the head until all the hair in brought in and the braid reaches the right side of the head.
Then braid the hair down into a regular braid.
Tie off the end with an elastic.
Loosen the braid by gently pulling on the edges.
Then lay the tail right behind where the braid started and pin it down, hiding the pin underneath the braid.
Finish by smoothing down any flyaways with hairspray and curling the ends of the hair.