Flower Crown Braid is a great way to adopt the flower wearing trend this Spring.
Tiny buds and big blossom are popping up on the most stylish heads around. They are modern and interesting but should be a little unexpected. Opt for red roses, little daisies, or pretty pink buds. The bigger you go the more eccentric the look will be. For a feminine look, choose small, soft flowers.
They look best on rough, undone hair, but a pretty braid can look perfect with them too.
Check out this post, How to Wear a Flower Crown, for more great tips on styling a flower crown.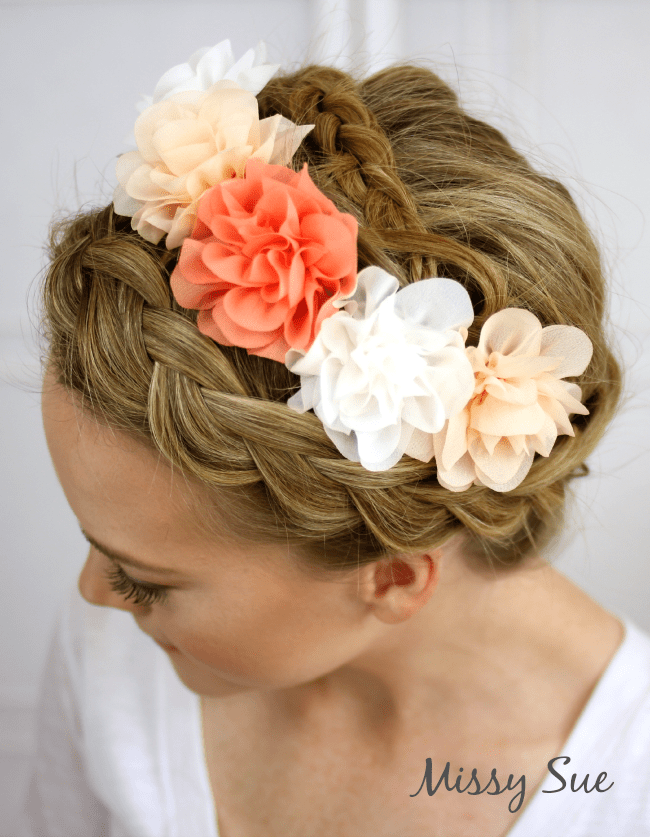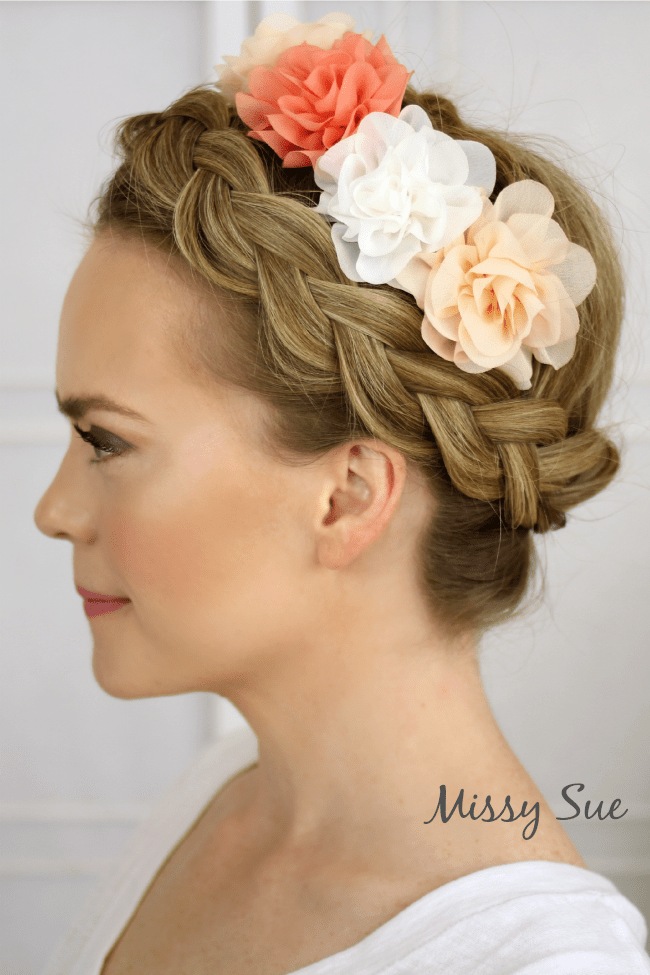 Follow these steps to get the look:
Step 1 / Beginning with a part on the right side, separate a section of hair on the heavy side of the part.
Step 2 / Start a Dutch Braid and continue braiding the front portion of the hair until reaching the left ear.
Step 3 / Pin off the braid.
Step 4 / Divide out the top most portion of the hair; right around the crown and clip it out of the way.
Step 5 / Place the flower crown (mine is from AEO) behind the braid and tie it in the back.
Step 6 / Let down the top portion that was clipped off.
Step 7 / Pick up the braid and continue dutch braiding around the back of the head.
Step 8 / Add in any fabric strands from the crown and incorporate them into the braid.
Step 9 / When the braid reaches the right ear, angle it upwards so it can settle behind the flower crown.
Step 10 / Lay the braid behind the crown and pin it against the head.
Step 11 / Gently loosen the braid by pulling on the edges.
Step 12 / Spritz with hairspray to smooth down any flyaways.
Done!
Another great way to style your hair is by prepping damp hair with mousse then finger combing it as you run a hair dryer from root to end. Top it with your flower crown or toss it into a low messy knot.
If you prefer flower pins over crowns then try placing a couple to one side of the forehead, with your hair down, for a look that is imperfect. The style is worn best when the pins look as though they are casually placed, without over thinking it.
Find your own Flower Crown!
[show_shopthepost_widget id="37180″]