June Beauty Favorites features six new products that I have been obsessing over the past few months. Finding new products that blow my mind and jazz up my makeup routine is one of my absolute favorite things and sharing my finds with you is something I always enjoy doing. Makeup is an absolutely blast and something I will never grow out of loving. It is fun to play with, gives color to the face, livens up the skin, and can make any girl feel like a princess.
Clinique Moisture Surge Tinted Moisturizer
 – This product is perfect for everyday wear and under other foundations. I love it because it moisturizes the skin, offers a hint of an SPF and instantly smooths and uniforms the undertones of the skin. This makeup is perfect for a day at the pool or while out boating around the lake. It offers a light to medium coverage so you feel put together without the heaviness of a full coverage foundation.
NARS Deep Throat Blush
 – If you are on the hunt for the perfect blush, head to the NARS counter. Not only does
Deep Throat
offer the prettiest pink sheen, the other shades, such as
Orgasm
, are perfect for so many skin tones. NARS blushes give the skin a healthy looking glow with the slightest hint of shimmer; the #1 tip for looking younger. A blush is a girls best friend for looking awake and flushed and
Deep Throat
offers just that.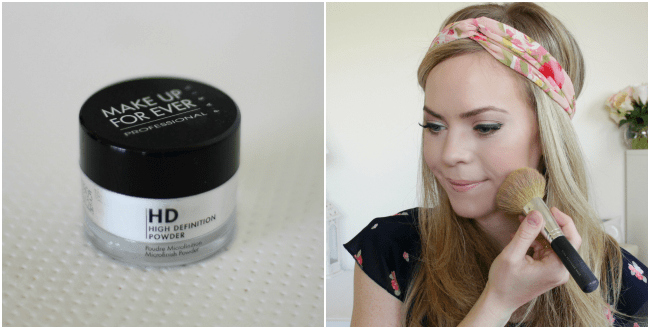 Make Up Forever HD Powder – The only translucent finishing powder you will ever need. I was truly amazed at the power punch this product packed. So many people kept telling me to try it and I am so glad I finally listened! It perfectly mattes the skin making it completely uniform. Primer, foundation, concealer, then this beauty is the perfect combination for everyday wear whether you prefer light, medium, or full coverage makeup. It claimes to soften imperfections, fine lines and pores, leaving the complexion glowing and radiant; I believe it 100%. No cakey, powder face over here, no siree!
Sonia Kashuk Eye on Neutral Shimmer Palette – The new beauty must-have. I went into Target the other day to look through other Sonia Kashuk products and believ eit or not, this palette was completely sold out. I stood there thinking I was so glad I already had it, ha! A gorgeous variety of shades for that neutral eye, gold and bronze shimmer eye, the perfect smokey eye, and even everyday looks, this palette packs a punch. The eye shadows are powder soft and apply in an even coat of vibrant color. My new favorite palette and one I will be taking with me on all my trips this Summer.
MAC Cremesheen Peach Blossom Lipstick – The perfect nude lipstick. Sweep this baby on top of some MAC Naked Liner and you've got the perfect nude lip for every single day. Seriously though, I wear this everywhere. It's great for work, a night out, even just lounging at a friends. A beautiful cremesheen, it feels smooth and glossy on the lips and pairs perfectly with nearly any baby pink lip gloss. I always feel instantly put together when I pop a beautiful lipstick on my lips and now I have the shade I'll never be able to go without.
NARS Gold Digger Lip Gloss – I never thought NARS could do better than their blushes until I tried their lipsticks and glosses. Holy smokes, talk about amazing. I don't know where this guy comes from but his products are pure genius. A gold shimmer lip gloss that applies as the perfect nude with the prettiest shimmer of gold. A must have for that pretty nude lip that stays in place, offers an outrageously lustrous shine and glides over the lips with a smooth even texture. A fabulous gloss that pairs amazingly with nearly any shade of lipstick.