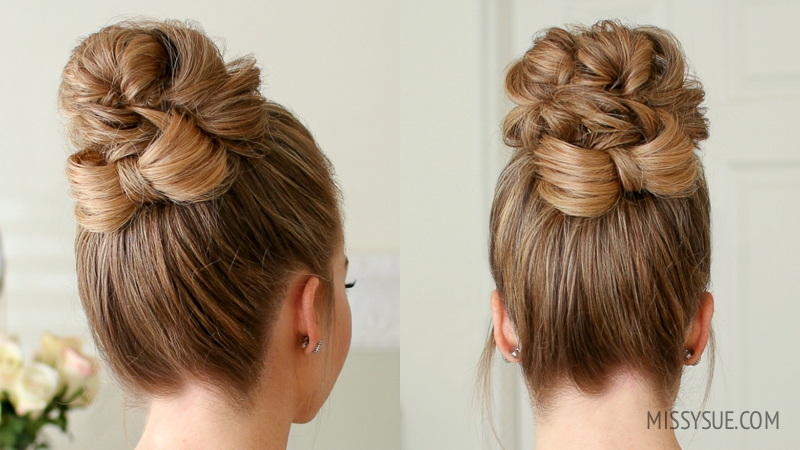 Back in January, I posted this hair bow picture on instagram and couldn't wait to film a tutorial. When I sat down to recreate it I thought up this idea instead, to incorporate it with a messy bun.
This is such a unique way to take your messy bun to the next level and it's kind of hidden too until you take a closer look. I love that, a kind of peek-a-boo bow. This style would be so pretty for prom if you are looking for some hair inspiration. If you do end up trying it out be sure to let me know and tag me on instagram!
High Bun Bow Accent Supplies:


High Bun Bow Accent Instructions:
Step 1 / Begin by brushing all of the hair into a high ponytail.
Step 2 / Wrap the hair with a hair band and only pull the hair halfway through on the last wrap to create a loop.
Step 3 / Take sections of the loop and pin the hair against the head to help hide the hair band and form a messy bun.

Tip: As you pin each section, make sure to look at the hair from all angles to ensure the bun has a flattering shape. It'll look different each time but pinning larger pieces will help with flyaways and keep the bun a little smoother.

Step 4 / With the ends left sticking out, divide out a small piece from the middle of the section and clip it out of the way.
Step 5 / Tie the rest of the section together with a clear elastic band.
Step 6 / Now split this hair into two equal sections and with the right section carefully roll it under itself and place it against the head, pinning the backside with bobby pins to create the right side of the bow.
Step 7 / Then repeat that step with the section on the left side, rolling it under itself, placing it against the head and sliding bobby pins underneath to hold it in place.
Step 8 / Now let down the section that was clipped up, wrap it between the two loops, bring it up through the right loop and pin it behind the bow with a bobby pin.
Step 9 / Set the style with hairspray and smooth down any flyaways.