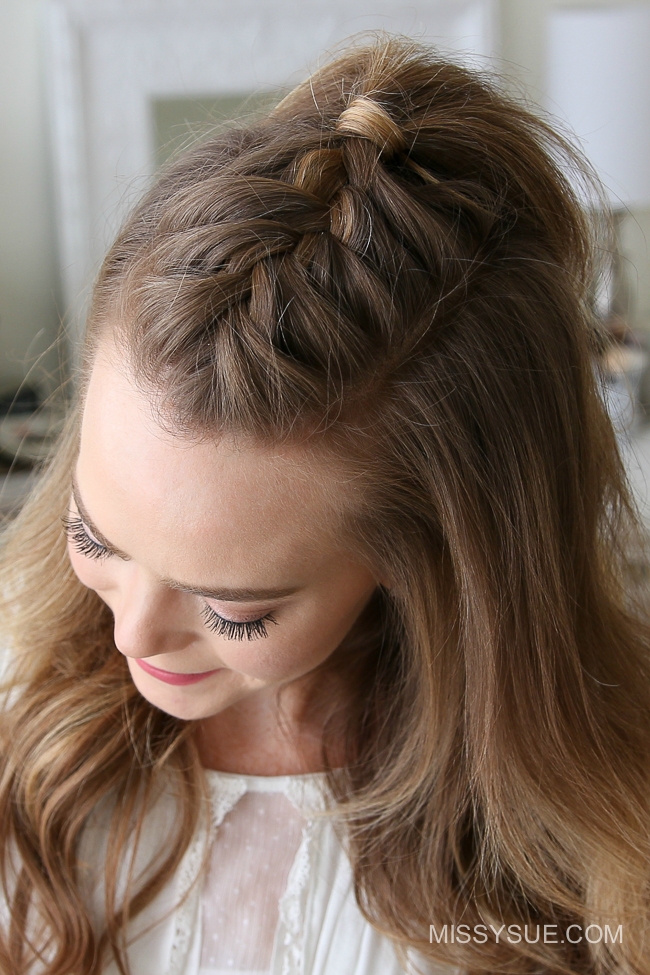 Over Thanksgiving weekend, my friend was asking me how to create this French Mohawk Braid. Since half up hairstyles are some of the most requested tutorials I thought it'd be perfect to share a tutorial with you as well!
This is a simple yet edgy style and a fun way to elevate your favorite everyday curls. I hope you enjoy the tutorial and be sure to let me know what you think! Thank you so much for watching! xoxo, Missy
French Mohawk Braid Supplies:
Rattail comb
2 Hair sectioning clips
Clear elastic
2 Bobby pins


French Mohawk Braid Instructions:
Step 1 / Begin by dividing out a section of hair for the braid so create two parallel part lines at the corners of the forehead and clip down the bottom hair.
Step 2 / Pick up a small section near the hairline and divide it into three smaller pieces for the braid.
Step 3 / I'm going to start by crossing the right strand over the middle and then the left strand.
Step 4 / Now cross the right strand over the middle, pick up a new section and add it into the middle strand.
Step 5 / Then cross the left strand over the middle, pick up a new section and cross it into the middle strand.
Step 6 / Repeat these steps crossing the side strands over the middle strand while bringing new sections into the braid until it reaches the crown of the head.
Step 7 / Tie off the end of the braid with a clear elastic band.
Step 8 / Then to hide the elastic, divide out a small section of hair, wrap it around the elastic band and pin it underneath with a bobby pin.
Step 9 / Gently back comb the ponytail a little bit to add some volume.
Step 10 / Spritz the ponytail with some hairspray for hold and smooth down any flyaways.