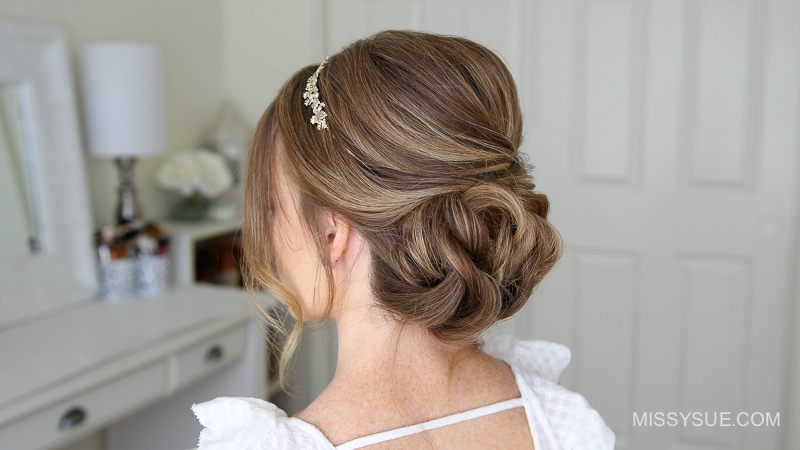 Homecoming is coming up soon so I thought it'd be the perfect time to share a simple and easy updo that would be perfect for the occasion. I love this look for so many different events and even think it'd be so pretty for a bride or bridesmaids. I am anticipating a few questions about the headband I am wearing so I wanted to go ahead and let you know I purchased it from ASOS a few years ago; a similar one that I also love can be found here.  I hope you enjoy the tutorial and would love to know what you think in the comments below!


Simple Formal Updo Supplies:


Simple Formal Updo Instructions:
Step 1 / Begin by parting thei hair on the right side.
Step 2 / Divide off a section of hair from the top of the head and pin it at the back to add volume at the crown.
Step 3 / Take small sections of hair from the right side of the head and pin them underneath the crown section.
Step 4 / Next pick up a 2-3″ section of hair at the back of the head and gently back comb this section.
Step 5 / Roll this section into a bun and pin it against the back of the head to form a hair cushion for the bun.
Step 6 / Take the hair from the left side of the head and wrap this over the hair cushion, pinning it as it's wrapped.
Step 7 / Pick up a section of hair remaining at the nape of the neck and twist this into a rope braid.
Step 8 / Then gently pull on the edges of the twist to make it bigger.
Step 9 / Drape the twist over the bun and pin it in place with bobby pins.
Step 10 / Then repeat the same steps creating more twists with the remaining hair and pinning it over the bun as well.
Step 11 / Spray the style with hairspray and smooth down any flyaways.
Step 12 / Add a pretty gold headband to finish off the style.