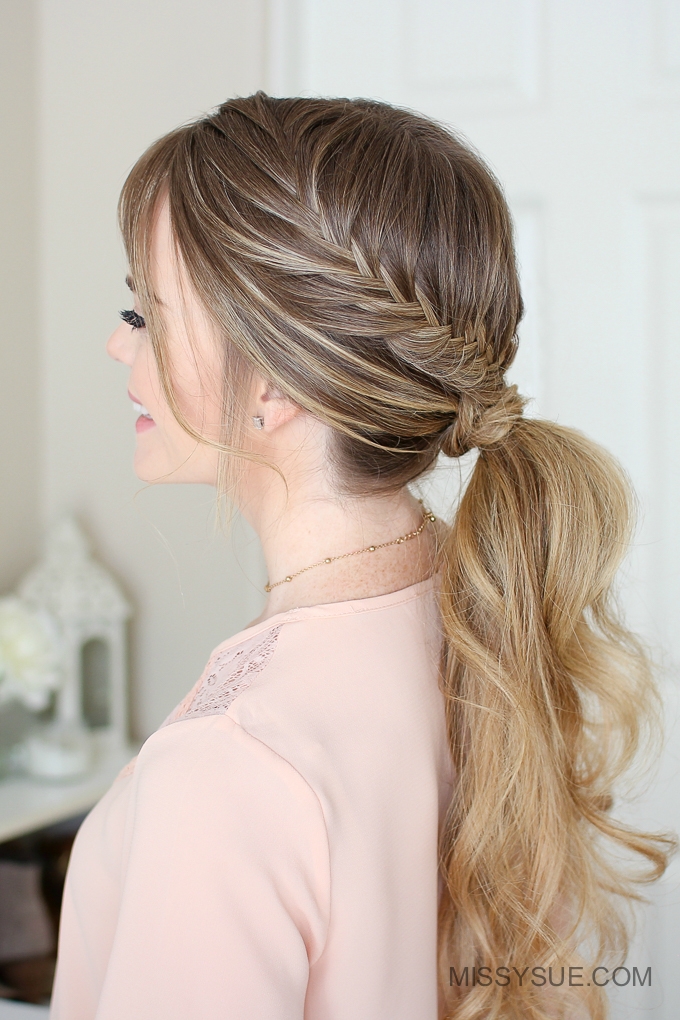 I've got to tell you, this hairstyle turned out completely different than I originally planned. Sometimes I have an idea in my mind but once I start braiding I forget what I'm doing and just end up with something new. Ponytails are one of my favorite hairstyles during the summer months and I love the extra embellishment of the fishtail braids. It's so hot here already, I'm excited to have a new hairstyle to add to my list of summer hairstyles!
Double Fishtail Wrapped Ponytail Supplies:


Double Fishtail Wrapped Ponytail Instructions:
Step 1 / For this hairstyle you can part your hair wherever you prefer. I'm parting mine on the right side.
Step 2 / Now divide out any hair to frame the face and pick up a section for the braid.
Step 3 / Begin a regular braid crossing the side strands once over the middle strand.
Step 4 / Now combine the middle and right strand together so there are two sections for the fishtail braid.
Step 5 / Begin a fishtail french braid crossing small sections from one side over to the other while incorporating new sections into the braid.
Step 6 / Once the braid reaches the temple only add in hair from the crown without bringing in hair to the bottom of the braid.
Step 7 / When the braid reaches the middle of the back of the head stop bringing in sections and braid the rest of the section a little further down.
Step 8 / Then criss-cross two bobby pins over the ends so it doesn't unravel.
Step 9 / Now repeat the same steps and create a second fishtail french braid on the right side.
Step 10 / Once the right braids meets the other, braid the section a little further down and criss-cross two bobby pins over the ends.
Step 11 / Now take the remaining hair and tie it into a ponytail right underneath the braids.
Step 12 / Next criss-cross the two braids over the ponytail and pin them with bobby pins so they don't come loose.
Step 13 / Then wrap the ends around the hair band and tie an elastic band over the ends. This will hold the ends in place and hide the hair band from the ponytail.
Step 14 / Set the style with hairspray and smooth down any loose hair.