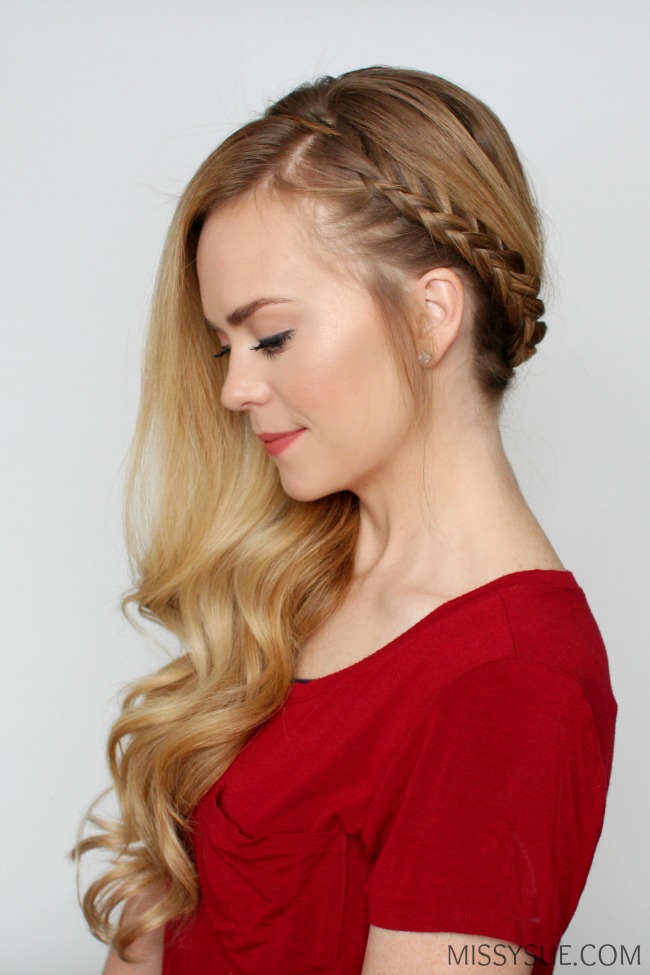 I recently spotted this hairstyle on Iris via her instagram (braids_in_action) and it just spoke to me. I fell in love and wanted to create a tutorial for it pronto. It has an edgy, bohemian vibe but still soft and pretty with the side-swept curls. This hairstyle would be so pretty for prom, coachella, school, anything! It's quick and easy and you could easily do heatless curls instead of using an iron. Let me know what you think in the comments below! I love hearing from you!
Bohemian Sideswept Dutch Braid supplies:
Bohemian Sideswept Dutch Braid Instructions:
Step 1 / Begin by curling all the hair with a 1 1/4″ curling iron. To do this, divide off 1″ sections of hair and clamp them around the curling iron, angling each section away from the face.
Step 2 / When all the hair is curled, gently brush through it before creating a deep left side part. Then continue the part down to the nape of the neck, towards the left side.
Step 3 / Clip off the hair on the right side with a hair sectioning clip.
Step 4 / Divide off a triangle shaped section on the left side of the part near the hairline and split it into three equal sections.
Step 5 / Begin a dutch braid crossing the side strands under the middle.
Step 6 / Continue braiding the hair, adding in small pieces from this section left down.
Step 7 / When the braid reaches the nape of the neck and all the hair from this section is brought in then continue braiding the section to the bottom in a regular braid.
Step 8 / Tie off the braid with a clear elastic band or gently back comb the ends so it doesn't unravel.
Step 9 / Let down the hair clipped away and sweep it all over the right shoulder.
Step 10 / Spray the top of the head with hairspray and comb through it to smooth down any tangles and flyaways.
Step 11 /Now wrap the braid around the nape of the neck and up the right side of the head. Cross the braid over the top and pin it down with several bobby pins.
Step 12 / Spray the style with a medium-hold hairspray to set it.