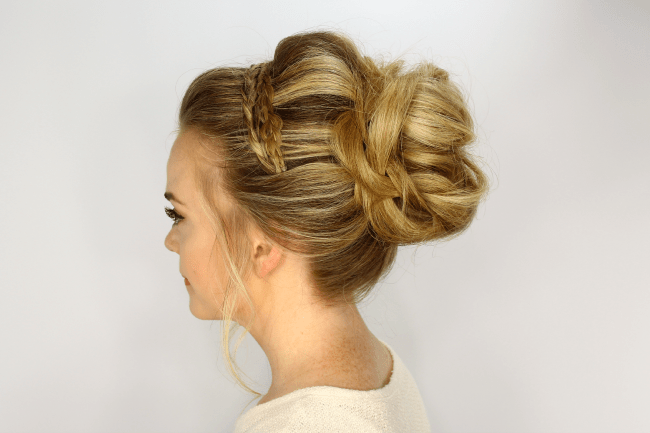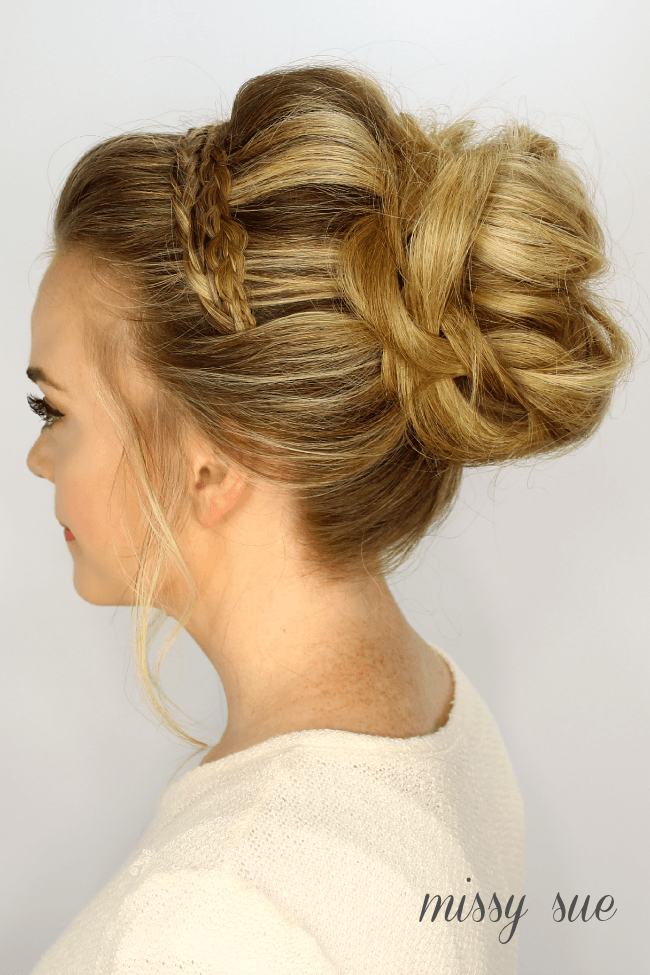 This hairstyle was inspired by a picture I spotted recently on Pinterest. It's not exactly the same but I love the way it turned out. When I first saw it I immediately thought it would be easy to replicate with two hair extension wefts that were simply braided and clipped into the hair. I wanted to try it using my real hair though and after three attempts, finally figured out a way to create the braids and still hide them underneath sections of hair. It requires sectioning the hair into portions to get the braids to lay right but once you watch it done, you'll see how easy it can be!
I created a messier bun for this look but it could easily be recreated with a wide range of different buns. Try it out with your favorite and don't forget to tag me on
instagram
and
twitter
so I can see your recreations!

Braided Headband Updo
Step 1 / Begin by sectioning off the hair at the crown and pinning it out of the way.
Step 2 / Next, section off the hair in front of the ears.
Step 3 / Now bring up a section below the crown and level with the top of the ears clipping it off as well.
Step 4 / Then divide off a 1″ horizontal slice of hair level with the ears and divide it into two halves.
Step 5 / Braid each half down into a regular braid and tie off the ends with a clear elastic band.
Step 6 / Let down the clipped sections of hair and wrap the two braids over the top of the head, criss-crossing them at the top.
Step 7 / Pin down the ends with several bobby pins, keeping them hidden under the hair.
Step 8 / Back comb the hair at the back of the crown to create some volume.
Step 9 / Sweep all the hair up into a high ponytail and tie it off with a hair band.
Step 10 / Wrap a mesh donut over the ponytail and secure it with several bobby pins.
Step 11 / Divide the ponytail into three sections.
Step 12 / Back comb each section and braid them down into regular braids.
Step 13 / Wrap them around the mesh donut and pin down the ends with bobby pins.
Step 14 / Spray the style with hairspray and smooth down flyaways.